Magnum's newest musings from the world of the other football.
This week's blog pains me to write because I have to do something I don't like to do and that's give credit to Manchester United. The English giants won their 41st trophy over the weekend by defeating Southampton in the finals of the EFL Cup. It was a fantastic match as it provided drama, intrigue, and of course no cup final would be complete without controversy. I could spend days arguing for or against why Manolo Gabbiadini's first half goal for Soton should or shouldn't have counted but that's not this week's topic. By the way in my humble opinion it was a bad call. Instead I want to focus on the main man right now for the Red Devils and it's easy to figure out who it is if you even remotely follow the sport.
Much like Napoleon nearly 200 years ago Zlatan Ibrahimovic is content on European conquest however unlike his diminutive counterpart there does not appear to be a Waterloo in sight for this 35 year old Swede. As if he was playing a game of Risk Zlatan as he is often referred to has raised his flag in various leagues across Europe with one goal in mind and that's domination. It's pretty simple, anywhere Zlatan goes he wins and has little regard for who he crushes to achieve that goal. For many years the knock on him was that he has never proven his worth in England. This season he is proving his doubters wrong and silencing his critics with every ball he smashes into the back of the net. For Manchester United that is a great thing and for the rest of the Premier League that's a notice that they are next.
His career started with Malmo in the Allsvenskan or Swedish Domestic League where as a youngster he made a name for himself and caught the eye of Dutch side Ajax (eye axe) where he tallied 35 goals in 74 matches. More importantly he helped them win three trophies including two Dutch League titles in three years. Having conquered Holland it was on to Italy and Juventus who are arguably the most recognized club in Italy and known all over the world for their style, fan support and pedigree. Italy proved to be too small to contain this six foot five monster as he helped Juventus win multiple trophies although his stay was cut short and some of those trophies later stripped as a result of a match fixing scandal that involved multiple Italian teams over two seasons. Ibrahimovic himself was not named as a participant in the scandal. Being free from Juventus he made his way two hours southeast of Torino to Milan where he signed for another Italian super club; Inter. Once again winning was on the menu as he helped lead Inter to a trifecta of Serie A trophies in 3 years. Checking Italy off his list he found his way to Spain where he found himself winning more silverware with Barcelona in 2009 but was later loaned to AC Milan. Electing to stay in Milan for another season, he didn't help Milan win any trophies but he did score a ridiculous 29 goals in 32 games winning the scoring title but ending his streak of eight consecutive league titles.
Feeling the need to feed his hunger he headed to France and spent four seasons playing for the capital city side Paris Saint-Germain. In his first season Ibrahimovic scored 30 goals and led PSG to their first Ligue 1 title in 19 years. Playing four seasons with the club they proved to be arguably his most successful as he scored 113 goals in 122 games and helped PSG win four consecutive Ligue 1 titles which doubled what they had won in their previous 42 years of existence and multiple other trophies in France. With his contract expired there was only one stop left for Zlatan and that was England.
Having dominated the competition and having conquered Holland, Italy, Spain and France in the summer of 2016 Zlatan Ibrahimovic signed as a free transfer with Manchester United to team up with stars such as Paul Pogba, and Henrikh Mkhitaryan.In just 24 league games he has scored 15 goals but more importantly he has scored 10 goals in the FA, EFL and Europa Cups this season including two in the EFL Final this past weekend one of which was a header in the closing stages to give United the victory. With Manchester United still alive in the Europa and FA Cups he figures to play a prominent role if the Red Devils are to add more silverware to their cabinet. One of the few trophies that has eluded Ibrahimovic in his illustrious professional career is the Champions League Trophy. If he is to raise that trophy he's going to need to elevate United into a top four finish in the English Premier League where they currently sit sixth. Winning the Premier League title seems impossible at this point with Chelsea being the runaway leaders and showing no signs of slowing down and no Champions League football for United this season he'll have to wait at least another year to target those final two trophies to add to his long list of accomplishments.
Photo Courtesy of Skysports 
Related News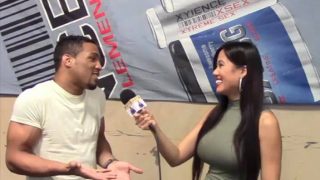 UFC lightweight, Kevin Lee, is coming off a second-round submission win over Francisco Trinaldo in Brazil at UFC Fight Night 106. At Xtreme Couture Gym, he spoke to Helen Yee of Eyes On The Game about helping