The first official signee of the Vegas Golden Knights joined Cofield & Co. on Tuesday.
Duke is ready for his second big chance at the big time. A sixth rounder in the 2014 NHL Draft, Duke said he learned some important lessons when it didn't work out with the Minnesota Wild, the first team to hold his rights.
Steve and Adam also offered up their services to terrorize some other guy named Reid Duke. The hockey player couldn't get @reidduke on Twitter because of that chap. But Cofield & Co. may change that very soon.
Photo courtesy NHL.com
Related News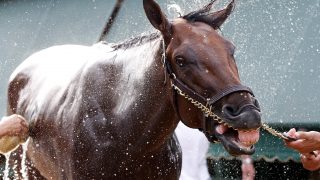 Soon to be taking over Australia, the Kentucky Derby winner should dominate other countries across the globe. We're not talking about horse racing, either. Legendary horse trainer Bob Baffert recently told TMZ the champion horse has more than