But you won't believe how.
In a season that's featured the improbable, we almost witnessed the impossible Wednesday evening at the Thomas and Mack.
UNLV, as a 10-point underdog and without Tyrell Green, led San Diego State 32-14 at the half. It didn't hurt that the Aztecs were 4-of-27 from the field in the first 20 minutes,  The aggressive Rebel defense forced 11 SDSU turnovers before intermission.
The Rebels built the lead to as much as 21 in the second half, but a San Diego State run was inevitable and it surely arrived. A Malik Pope three-pointer with 6:27 left, tied the game at 44-44 and when Jovan Mooring fouled out with five minutes to go, it looked even more bleak.
But UNLV wouldn't quit, and the two teams needed overtime to decide this game. Tied 50-50 at the end of regulation, the ragged Rebels simply ran out of gas.
In the end, San Diego State outscored the Rebels 12-2 in overtime, and they advance to play No. 3 Boise State tomorrow night at 8:30 p.m. PT.
Mooring led the Rebels 18 points on 4-of-8 shooting from long rage. Senior Chris Jones had 16 points and eight rebounds in 43 minutes. UNLV finishes the season 11-21.
Photo courtesy Las Vegas Sun
Related News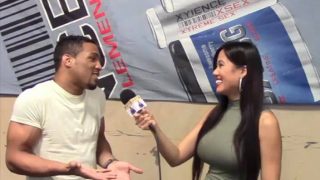 UFC lightweight, Kevin Lee, is coming off a second-round submission win over Francisco Trinaldo in Brazil at UFC Fight Night 106. At Xtreme Couture Gym, he spoke to Helen Yee of Eyes On The Game about helping