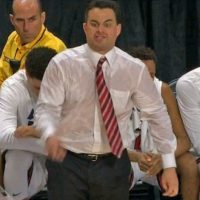 Sean Miller never met a good sweat he didn't like.
The no. 7 team in the country stormed into Las Vegas this week and captured the 2017 Pac-12 championship with an 83-80 win over no. 5 Oregon. The Wildcats defeated the Ducks at the T-Mobile arena.
The game had Arizona blowout written all over the the 2nd half as their lead grew to double digits. But Oregon is feisty, explosive, and they showed great moxie down the stretch. The problem is they were unable to come up with defensive stops when it mattered most.
Part of the problem for Oregon was the devastating news the team received hours before the game. Senior Chris Boucher tore his ACL in their Friday night win over Cal. He was their second-leading rebounder, and he led the Pac-12 in blocks this year.
Without Boucher's presence, Arizona shot a blistering 58% from the field. They were paced by sophomore guard Allonzo Trier's 23 points.
The question now is seeding for Arizona and Oregon. Will the committee consider the Pac-12 champs a 1-seed on selection Sunday? How much stock will they put into Boucher's injury?
The Pac-12 produced 3 outstanding basketball teams this year. The two teams in the title game, and UCLA. All 3 are capable of winning the national championship.
This was the first year the Pac-12 conference played this tournament in the T-Mobile arena. Kudos to all involved. What an atmosphere. Everybody at the NCAA needs to be drug tested if they don't put 1st and 2nd round games in this venue in the very near future.
Photo courtesy Larry Brown Sports
Related News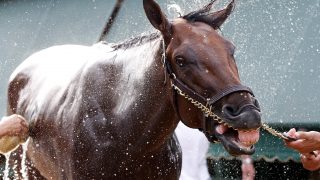 Soon to be taking over Australia, the Kentucky Derby winner should dominate other countries across the globe. We're not talking about horse racing, either. Legendary horse trainer Bob Baffert recently told TMZ the champion horse has more than