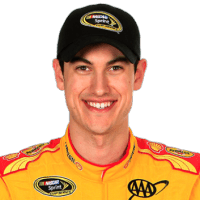 Las Vegas local Kyle Busch started from the poll position and looked every bit like the poll winner as he dominated the 1st stage of the Boyd Gaming 300 at The Las Vegas Motor Speedway leading all 45 of the first stage laps. Young gun Kyle Larson made sure he stayed in Busch's rear view mirror though and started stage 2 as the race leader after winning the race off of pit road.
Another Vegas local Brendan Gaughan had mechanical issues at the start of stage 2 and had to pit to change the carburetor on the car before spinning out and tapping the wall on the 81st lap. Brad Keselowski made his way through the field and jumped to the lead after Gaughan's spin out and ended up winning the 2nd stage of the race. Kyle Busch finished stage 2 in 2nd place. Joey Logano won the race off pit road and started the 3rd and final stage as the race leader, with Kyle Busch right on his tail at the front of the field as he had been all day.
The 3rd stage was filled with yellow caution flags for multiple spin outs. After the first 90 laps saw 4 cautions, we saw another 5 over the final 110 laps but Joey Logano held off the others over the multiple restarts for his 1st win since October of last year in Charlotte.
Related News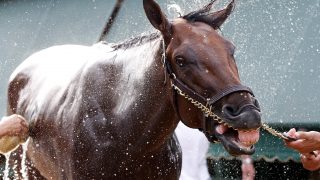 Soon to be taking over Australia, the Kentucky Derby winner should dominate other countries across the globe. We're not talking about horse racing, either. Legendary horse trainer Bob Baffert recently told TMZ the champion horse has more than