On Tuesday the Southern Nevada Sports Hall of Fame announced their class for 2017. It's a diverse and unique class but all will be inducted into the Hall of Fame on June 2, 2017.
Sam Schmidt (cover photo) made his name in the world of Indy Cars but suffered a serious injury in a crash during practice that left him paralyzed. Schmidt a resident of Henderson raced in the Indianapolis 500 three times and won at the Las Vegas Motor Speedway. He still remains active in racing owning a team.
Overton Curtis was a multiple Las Vegas High School sport star in the 1950's and eventually played football collegiately at Utah State and in the NFL with the Pittsburgh Steelers. He returned to the valley where he worked as an educator as well as a coach of a variety of sports and even coached our very own Mike Pritchard in track and field.
The Las Vegas Bowl, only the second event to be inducted along with the National Finals Rodeo. It remains the 16th oldest bowl game and the 13 oldest that has remained in one city without moving.
Butch Harmon is synonymous with golf and despite only achieving one win in his career on the PGA Tour Harmon has made a name for himself as the premier golfing coach in the world. Harmon who calls Henderson home has worked with a who's who list in the world of golf including Tiger Woods, Ernie Els and Phil Mickelson.
Floyd  Mayweather is one of the greatest boxers in the history of the sport, born in Grand Rapids, Michigan he started boxing competitively at the age of 7 and has amassed a 49-0 professional record. Mayweather also won a bronze medal in the 1996 Atlanta olympics but has taken his brand to another level as The Money Team is known all over the world.
Related News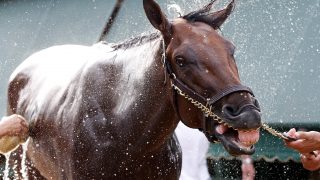 Soon to be taking over Australia, the Kentucky Derby winner should dominate other countries across the globe. We're not talking about horse racing, either. Legendary horse trainer Bob Baffert recently told TMZ the champion horse has more than