Five Power 5 jobs are open, including Washington where Reno's Eric Musselman tops the list.
In a rare move, Brad Underwood left one Power 5 school for another. Why is it rare? Underwood bolted Stillwater, Ok. after just one season.
"We are saddened and disappointed in Brad's decision to leave Oklahoma State after one year," said Oklahoma… https://t.co/NW3GJxgyDA

— Andy Katz (@ESPNAndyKatz) March 18, 2017
Why? We don't have all the details. Could it all be about the money?
Brad Underwood,

What Illinois offers: $3 million a year

What OSU offers: $1 million a hear AND Whataburger.

Your loss.

— Anthony Vallejo (@anthonyjvallejo) March 18, 2017
It's a possibility. The Cowboys deal with Underwood only paid him 6.3 mill over five years. That made him the lowest paid coach in the Big 12. Even perennial doormat TCU is paying Jamie Dixon over $2 million per season.
Illinois is still alive in the NIT. Underwood won't start until this season officially finished.
From Illinois: "Brad Underwood will not coach the Illini during the NIT. Jamall Walker will continue to serve as… https://t.co/mxGEV8Rhp2

— Andy Katz (@ESPNAndyKatz) March 18, 2017
Musselman has appeared on lists for jobs at LSU, Cal and Washington. The Huskies because of $3.9 million owed to former coach Lorenzo Romar, may be in the weakest position in terms of salary potential. Add Indiana, and now Oklahoma State to the list of big conference openings.
Photo courtesy @ILLINIAD
Related News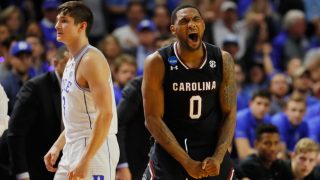 The second-seeded Blue Devils lost a virtual road game against South Carolina 88-81. Maybe Mike Krzyzewski saw it coming when he denounced North Carolina's controversial HB 2 law on Thursday. "I'm very sad, very disappointed about the