The second-seeded Blue Devils lost a virtual road game against South Carolina 88-81.
Maybe Mike Krzyzewski saw it coming when he denounced North Carolina's controversial HB 2 law on Thursday.
"I'm very sad, very disappointed about the whole thing, which apparently is something that's really, really hard to change," said Krzyzewski. "It would be nice if our state got as smart and also would host not just basketball tournaments but concerts and other NCAA events. But maybe we'll get there in the next century, I don't know. We'll see."
Back in September, the NCAA pulled the plug on Greensboro, N.C. hosting a 2017 Regional moving it to Greenville, SC. Duke battled the gritty Gamecocks and a crowd of 15,791 that seemed to be 99-percent behind South Carolina.
Remember, Duke is playing South Carolina in hostile Greenville SC instead of a friendlier Greensboro NC because of the backlash over HB 2.

— Kevin M. Kruse (@KevinMKruse) March 20, 2017
Why did HB 2 become such an issue? Breitbart says:
The law reads, "Public agencies [and local boards of education] shall require every multiple occupancy bathroom or changing facility to be designated for and only used by persons based on their biological sex."
The interpretation for many?
The law changes the way people pursue claims of discrimination because of race, religion, color, national origin, biological sex or handicap in state courts. While the legislature amended HB2 to restore the rights of residents to sue on these grounds in state courts, it shortened the window for filing complaints from three years to one.
I blame this DUKE loss on the former Gov of NC. If that damn "Bathroom Law" wasn't enacted this game would have been in Greensboro NC????❤️????

— Lisa Sidney (@LisaVSidney) March 20, 2017
#Duke latest victim of #NorthCarolina's dumb #bathroom law. They lose to #SouthCarolina #Karma

— Geraldo Rivera (@GeraldoRivera) March 20, 2017
South Carolina trailed by seven at the half, but the crowd helped the Cocks get back into it and take the lead with a 27-14 run over the first eight minutes. Another 13-4 run pushed the USC lead to nine. Sindarius Thornwell had 24. Duke couldn't contain 6-foot-9 sophomore Chris Silva, who scored 13 of his 17 in the second half and grabbed 10 rebounds.
Grayson Allen led Duke with 20, and freshman Frank Jackson and Jayson Tatum each had 15.
Chase Jeter, a sophomore from Bishop Gorman, did not play. Fighting a back injury and DNP's, Jeter didn't play in the final 19 games for Duke.
Photo courtesy N.Y. Times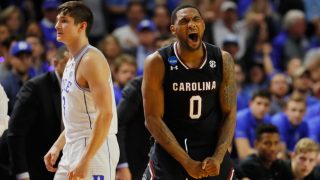 The second-seeded Blue Devils lost a virtual road game against South Carolina 88-81. Maybe Mike Krzyzewski saw it coming when he denounced North Carolina's controversial HB 2 law on Thursday. "I'm very sad, very disappointed about the
Related News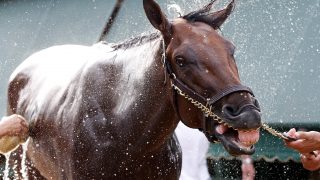 Soon to be taking over Australia, the Kentucky Derby winner should dominate other countries across the globe. We're not talking about horse racing, either. Legendary horse trainer Bob Baffert recently told TMZ the champion horse has more than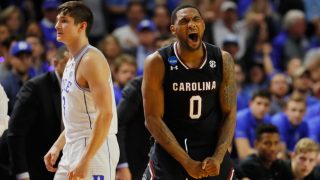 The second-seeded Blue Devils lost a virtual road game against South Carolina 88-81. Maybe Mike Krzyzewski saw it coming when he denounced North Carolina's controversial HB 2 law on Thursday. "I'm very sad, very disappointed about the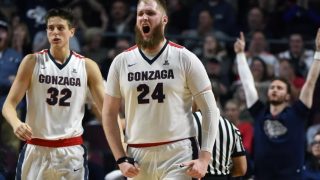 Zach Collins was massive down the stretch as the Bulldogs survived blowing a 22-point lead against Northwestern. Gonzaga (34-1) will face West Virginia on Thursday in San Jose, Ca. Collins was the main target on Zaga's offense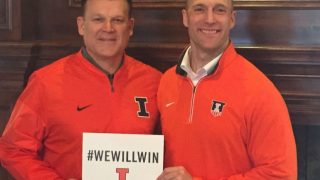 Five Power 5 jobs are open, including Washington where Reno's Eric Musselman tops the list. In a rare move, Brad Underwood left one Power 5 school for another. Why is it rare? Underwood bolted Stillwater, Ok. after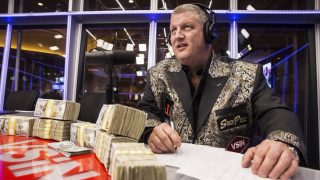 The D Las Vegas head honcho bet $352,000 on the first two rounds of the tourney. So far he's just 3-14-2. UPDATE: Stevens was better on Day 4 with his bets,but he still finished 10-19-3. He lost