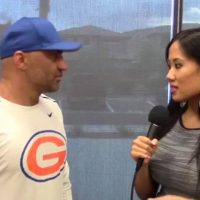 Bishop Gorman High School football will kick off their season against DeMatha 6:00 p.m. on Friday, August 25 at Fertitta Field. It will be televised on ESPN.
The defending Class 4A State Champions are looking to win their ninth consecutive state title. Last year at State, they defeated Liberty High School 84-8 at Sam Boyd Stadium.
The Gaels are going into this season ranked fourth nationally, according to USA Today's Super 25 Expert rankings.
With seniors graduating after last season, head coach Kenny Sanchez spoke to Helen Yee about his expectations for this year, the ranking by USA Today, opening weekend, and more.
Video below.