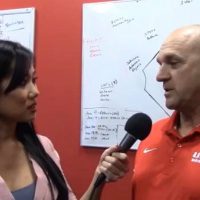 On Thursday, November 9, UNLV baseball team, with the partnership of the Friends of Jaclyn Foundation (FOJ), adopted Kaysen Camat-Toki.
FOJ Foundation pairs children with pediatric brain tumors and other childhood cancers with high school and college sports teams to provide support, friendship, and love.
UNLV baseball head coach Stan Stolte and Kaysen's father spoke to Helen Yee.
Video below.