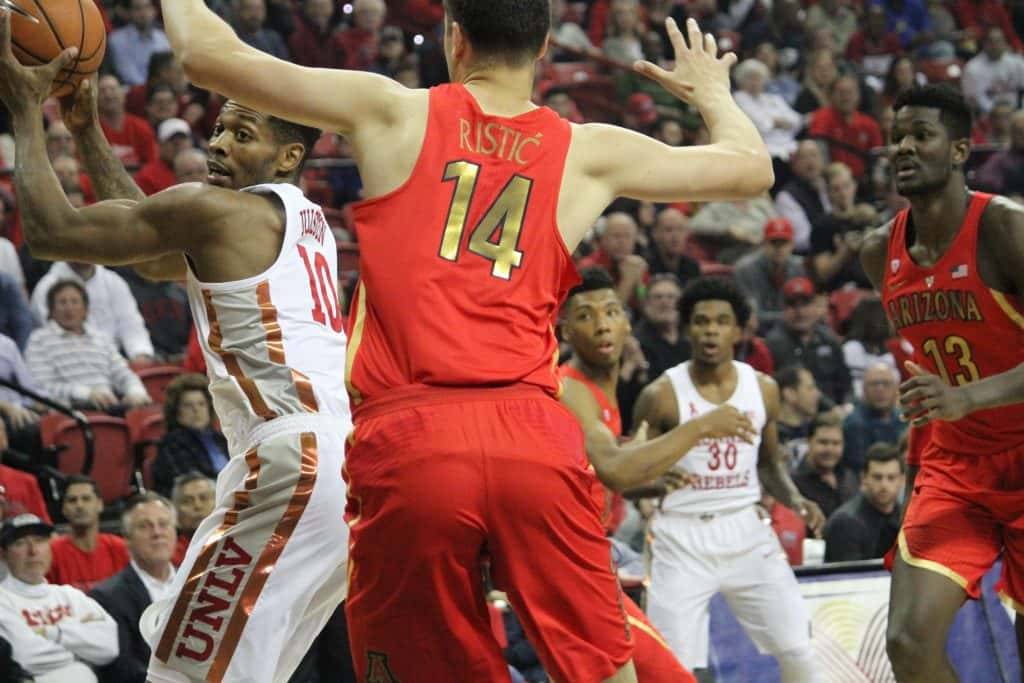 After breaking from a three-game losing streak in their drubbing of Long Beach State, the Wildcats (5-3, 1st in the Pac-12) came to the Thomas and Mack Center and defeated the Runnin' Rebels (6-2) 91-88 in overtime. A crowd of more than 14,000 reportedly packed the stands.
UNLV played a promising first period, scoring quickly and taking a six-point lead in the first five minutes. Brandon McCoy (44) and Shakur Juiston (10) put up 10 points each and McCoy had eight rebounds.
The Rebels shot 57-percent from the field and left the Wildcats to ponder an 11-point deficit at halftime. Arizona shot for just 35-percent from the field and went 1-11 from the three.
The second half told a different story for Arizona who scored 48 points, diminishing the Rebels' lead before the 12-minute mark; the Rebels' lead was 13 at its peak at 19:28. Adjustments from a livid Sean Miller, Arizona's head coach, pushed UNLV defensively. The Wildcats also out-shot the Rebels going 18-for-29 and nearly doubling their first-half shooting percentage (62.1).
Three-point shooting was lacking for both teams in the first half with the Rebels going 1-for-3, but the Wildcat's went 5-for-7 in the second and made eight free throws off eight attempts before the end of regulation.
The Wildcats' standout scorers were freshman forward Deandre Ayton (13) who put up 28 points (12-23 FG, 1-3 3FG, 3-4 FT) in 39 minutes and gave McCoy all he could handle in the paint. Junior guard Allonzo Trier (35) scored 29 (10-19 FG, 1-6 3FG, 8-9 FT) in 43.
Rebels Head Coach Marvin Menzies discussed the challenges that turned things around for the Wildcats in the second half. "We knew [Ayton and Trier] were gonna get their money," Menzies said. "In the first half I thought we did a phenomenal job, we were doing exactly what we wanted to do. [The Wildcats] threw some new stuff in, in the second half and tweaked their ISO's."
McCoy scored 33 points on the night eclipsing his season high of 26. The freshman also stayed true to his double-double season average with 10 rebounds, (13-17 FG, 1-1 3FG, 6-6 FT).
The Arizona loss marks the second straight for the Rebels who take on Oral Roberts Tuesday, Dec. 5 at the MGM Grand Garden.