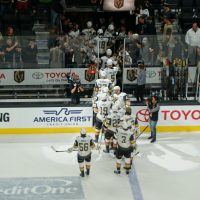 Vegas Golden Knights remain undefeated in overtime victories as they defeated Arizona Coyotes 3-2 on Sunday, December 3.
Reilly Smith scored the winning goal for the Golden Knights in overtime with an assist by Jonathan Marchessault.
After the game, Golden Knights head coach Gerard Gallant spoke about their game-winning performance. "Jonathan Marchessault made some great plays tonight. That's what he is; he's a guy that takes advantage of the opportunities. He found that second gear. He was out there late in his shift and once he saw the open ice, he made a great play to make that pass to Reilly Smith. Reilly buried that."
Jonathan Marchssault said, "Their goalie made a good save there off the rush, and I hit a post. I knew that I was going to have to pass for sure."
Reilly Smith then addressed the win, "It's nice. It seems like we have a lot of good luck in overtime in this building. It's great being able to close out a game like that. I think we had a lot of chances, it was too bad we couldn't put a couple past Scott Wedgewood earlier. But those are two points we definitely needed right now. "
After a scoreless first period from both teams, Golden Knights right wing Alex Tuch scored the first goal of the night, assisted by Colin Miller and Cody Eakin, 2:42 into the second period. It marked his sixth goal of the season.
Coyotes then tied the game with a goal from Jakob Chychrun.
However, the Golden Knights opened the third period strong, 18 seconds in, with a goal by Jonathan Marchessault, assisted by Nate Schmidt and William Karlsson. That goal became Marchessault's tenth of the season.
Coyotes once again tied the score with 11:10 remaining by Derek Stepan, and assisted by Max Domi and Clayton Keller.
Once they got into overtime, momentum was with the home team as Golden Knights captured another OT victory. They are now 5-0 in overtime wins, with four of those games played at T-Mobile Arena.
Their only away game OT victory was when they previously defeated Arizona Coyotes 2-1 on Saturday, October 7.
They will play Anaheim Ducks at home on Tuesday, December 5 at 7:00 p.m.
Post-game press conference with Golden Knights head coach Gerard Gallant here.
Photos from the game below.
Article, video, & photos by: Helen Yee | @HelenYeeSports