The Rebels came out differently than they have in the past few games this season, letting a 2-7 Oral Roberts team take an early lead over them, despite winning the ball game 92-66. The Golden Eagles were up five points by the eight minute timeout, but a late first-half, seven-point run before the four minute mark signaled the Rebels were awake, and they exited at halftime with a comfy 13-point cushion.
Junior transfer forward Shakur Juiston seemed to hold the team together offensively, racking up 17 points at the half with 4 rebounds. The Rebels were shooting above 50-percent, with Juiston managing to find lanes between the Golden Eagle's zone, but without star freshman, Brandon McCoy scoring big next to Juiston, the half seemed lackluster. Juiston went 8-10 in field goals and only 1-2 in free throws. At the end of the night he credited Johnson with setting up scoring opportunities and keeping the game plan together.
"I didn't try to force anything," Juiston said. "Big credits to our point guard Jordan. He's just tremendous for trying to find people and he found me a lot. It wasn't like I had to take over the game. It was the right time and right place."
Cheickna Dembele also played his role, capturing a season-best stretch with two points, four rebounds and secure ball-handling. But, Mooring proved to be a huge first-half asset in his own right picking up eight points in 15 minutes with 4 assists.
Head Coach Marvin Menzies made reference to the early-game sleeping spell during the press conference, mainly stating players were trying to shake off two tough, overtime previous losses.
"I was talking to the guys in the locker room about responses and reactions to adversity," Menzies said. "It was a little bit of pulling teeth the last few days, it wasn't over the top, but it was hard to kind of get them going and that's how we started the game. Thank God they're all competitors down deep."
The second half showed a completely rejuvenated team, as the Rebels opened up their 41-28 lead. Their most significant contributor, Freshman Amauri Hardy, struck gold with back-to-back three's in the 12th minute and another three within a span of three minutes to set up a 21-point run for UNLV. He was one of four Rebels with double digits at the end of the night, scoring 10 points in his 20 minutes on the court.  Mooring put up 15 in 27 minutes, and Juiston capped off the night with 19 and seven rebounds and three assists.
McCoy did shake things up late in the half, building on his high-scoring reputation. He put up 11 points in the last eight minutes to draw another double-digit total of 17 on the night. He couldn't manage the double-double folks have become accustomed to, but did have six rebounds.
In the end, the Rebels managed to do what needed to be done before heading into another tough match up this Saturday against the Fighting Illini. Menzies made it clear that the game would be a test, but also gave credit to the Golden Eagles who put up a challenge.
"They compete," Menzies said. "They play some games so we knew they weren't gonna come here and lie down. This was a better win than it appeared to be because of their record."
If the win is as Menzies says, the Rebels should be warmed up for a big night against Illinois at MGM Grand Garden Arena, where they'll put their 7-2 record on the line.
Related News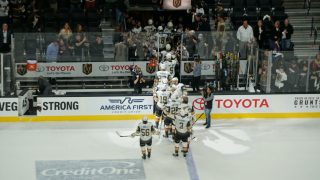 Vegas Golden Knights defeated Florida Panthers 5-2 on Sunday, December 17 at T-Mobile Arena. It was a special victory for Golden Knights head coach Gerard Gallant as he previously coached the Panthers after being named head coach