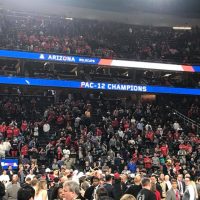 Arizona Wildcats defeated USC Trojans 75-61 in the Pac-12 championship game on Saturday, March 10 in front of 16,501 cheering fans at T-Mobile Arena to win the title.
This marks Arizona's second consecutive Pac-12 championship win after defeating Oregon Ducks last year. Overall, this makes it seven Pac-12 Tournament championships in school history.
USC was leading the game 33-30 going into halftime and it continued to be very close, with no team having a clear lead. However, after USC big man Chimezie Metu picked up his fourth foul, Arizona quickly pulled away within ten minutes left of the game. They outrebounded the Trojans 42-19.
Arizona's head coach Sean Miller now has the most wins in Pac-12 Tournament history with 17 and the Wildcats are 17-6 under Coach Miller in the Pac-12 Tournament.
After the game, he spoke about his team's victory. "Well, we're honored to represent the Pac-12. We really believe in this conference. I think we have a number of quality teams and a few teams, one in which we just played, USC, that you would not want to play in the NCAA Tournament. They're very, very talented."
"Jordan McLaughlin is as smart of a point guard as I think we've faced, I've seen. Yesterday was Aaron Holiday and Welsh and that team. But to win three games in three days is quite an accomplishment on the heels of winning the regular season. We're certainly very proud of those two accomplishments. We're confident that we use this tournament to prepare for next week, and hopefully we can continue to play our very best."
Unsurprisingly, Wildcats' Deandre Ayton was awarded the Most Outstanding Player of the Pac-12 Tournament. He finished the tournament with 74 points, 38 rebounds. Ayton averaged 32 points and 16 rebounds in the semifinals and finals.
.@DeandreAyton was in-credible tonight for @APlayersProgram. He finished with career-high 3️⃣2️⃣ points and 18 rebounds.

This in-credible highlight has been brought to you by @credible. pic.twitter.com/tyhWPdqtXH

— Pac-12 Network (@Pac12Network) March 11, 2018
Following their win, Ayton spoke about stepping his game up even more in the semifinals and finals. "I just want to win. That's about it. I'll do whatever it takes to win. I play hard on both ends of the floor. I give my all. Having the teammates that I have that have my back and knowing that they know that I have their back is a great feeling. It makes me go all out for them."
In the championship game, he finished with 32 points, 18 rebounds. With Ayton recording his 23rd double-double, he set the school record for most double-doubles in one season and broke the record set in 1975 which was held by Al Fleming. Ayton's feat also tied Kevin Love for the most recorded by a freshman in Pac-12 history.
Dusan Ristic added 16 points for the Wildcats.
USC head coach Andy Enfield added, after the game, "We're very proud of our players. They played extremely hard today. It was a tight game, and with about 8 or 10 minutes left, we just could not make a shot. Missed lay-ups, floaters, wide-open threes and free throws. And to bait a team like Arizona, we just have to make shots."
"I thought our defense was good enough to give us a chance to win, but give Arizona credit. They played exceptional basketball, and congratulations to them."
Champs. #Pac12Hoops pic.twitter.com/sqoQ6VkXcS

— Pac-12 Network (@Pac12Network) March 11, 2018
For Arizona's full post-game press conference, click here.
by: Helen Yee | @HelenYeeSports