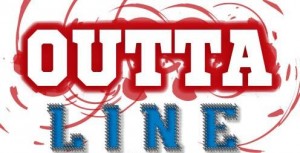 "More then just another Sports Talk Show!"
SUNDAYS 8am-9am (PT)
---
Host Bryan Feldman is a High Energy sports enthusiast with over 30 years of sports broadcasting experience! THIS IS NOT SPORTSCENTER! OUTTA LINE is Edgy views, Unique features, and High IMPACT! EVERY Show includes Celebrity Guests and AWESOME Give-A-Ways like Binions weekly $10k Guarantee Poker Tournament Entrees, Buffalo Wild Wing Parties, Themed Gift Baskets, and Tickets to Games, shows, and events in Las Vegas (ie. Las Vegas 51's, UNLV, Supercross, Helldorado Days, Foodie Festivals, Rides on The High Roller, and MUCH MORE!)
NOT PC……
"O U T T A L I N E"!
---
---
Proudly Sponsored by


Outta Line Episodes
Bryan discusses the NBA All Star Game, how good is Geno Auriemma? Emily Van Buskirk joins the show to discuss some college basketball. Blazin and Fact This round out the show.