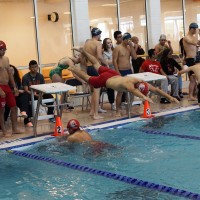 The Las Vegas Sports Network was out at the Adelson Educational Campus today to watch the boys and girls high school swim meet with Cheyenne HS vs. Adelson School and Mojave HS vs. Western HS.
The boys from Cheyenne took the win today over the Adelson Lions with a total team score of 86-71. Mojave's boys team was also victorious today with a 99-93 win over Western HS.
The exact opposite happened on the girls side. Adelson School crushed Cheyenne 129-64 and Western took the win over Mojave 118-104.
Photos by Sean McGhie / Las Vegas Sports Network
Alex Donno joined Cofield & Co. to talk about how the former Gaels performed for the Hurricanes in Game No. 1 of the season. Tate Martell did NOT win the starting quarterback job for Miami. Where and...

Read More
Tim Unglesbee & Ray Brewer break down Las Vegas Football across the valley and the upcoming season!...

Read More

High School Football Season Preview with Tim ...

Heatwave Sports
T.J Otzelberger took the UNLV job with the goal of building a fence around Las Vegas. So far, so good. Last week, the first year Runnin Rebels coach landed another commit from a Las Vegas local in...

Read More