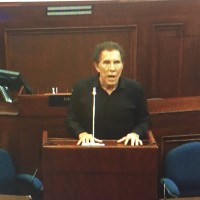 Day one of the special session of the Nevada Legislature saw Las Vegas casino giants support the stadium proposal.
It was an unprecedented gallery of Las Vegas corporate leaders that led the charge in favor of the Sands proposal to build a domed stadium in Southern Nevada, to house both the Raiders and UNLV. Casino titans Steve Wynn, Chairman and CEO of Wynn Resorts and Jim Murren, Chairman and CEO of MGM Resorts spoke to the Nevada Legislature during day one of the special session.
Notably, it was Steve Wynn who insisted the lawmakers take advantage of the unique scenario to further the growth and relevance of Las Vegas as an elite, tourist destination. "If the NFL and the Raiders come because we build the stadium, and we won't build the stadium unless they're coming, for the first time in modern history the National Football League has signaled a willingness to allow the team to transfer," Wynn urged. "We can't afford to lose this opportunity".
Wynn and Murren's presence sent a positive impact of solidarity among the key corporations within Southern Nevada. One could say, that both Wynn and MGM are Sands and CEO Sheldon Adelson's competition on The Strip, and always have been. But they both know how important this session and potential stadium could be, following their own talks with their relationships in the NFL. "My friend Jerry Jones and Robert Kraft and others with whom I have a personal relationship have told me the NFL is ready to do it if Nevada steps up in Las Vegas with a stadium," according to Wynn to the Nevada Legislature.
The overall proposal is known to this special session as Senate Bill 1 (SB1) and it state that an .88 room tax increase in Clark County will finance $750 in General Obligation bonds over 30 years to create and maintain a domed stadium with approximately 65,000 seats. The family of Mr. Adelson have promised $650 million, along with Raiders owner Mark Davis pledge of $500 million. In addition, the Adelson family will be responsible for all cost overruns, as well as, creating a Stadium Authority that will monitor and book events in the stadium.
Day one went off as planned, a lot of positive support for the stadium and room tax increase in Clark County. On Tuesday, it will be a different story. There will be opposition heard and it will be interesting to see how significant that will be to undercut the overwhelming nod of the first day's remarks from Southern Nevada's giants.
Stay tuned to ESPN Las Vegas and LVSportsNetwork.Com for continuing coverage of the special session of the Nevada Legislature regarding the stadium proposal in Carson City.
— Clay Baker
Vegas Golden Knights shut out Vancouver Canucks 3-0 on Sunday, March 3 at T-Mobile Arena. The Golden Knights are coming off back-to-back shutout wins. Marc-Andre Fleury hasn't allowed a goal in 168:43 of game action, which goes...

Read More
Dan and the Danettes talk 3 on 3, eating, and take your calls....

Read More

Dan Patrick Show Hour 3 (06-04-19)

The Dan Patrick Show
Colin comments on the Ezekiel Elliott's contract extension, why it's still Dak Prescott's team, and why he prefers how the Rams do business. Guests include Jane Slater, Nick Wright, Joel Klatt, Frank Caliendo, and Bucky Brooks. Learn...

Read More

Ezekiel Elliott and Jared Goffs Contract Exte...

The Herd