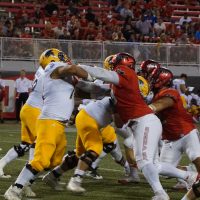 It's sometimes referred to as the 'Second Season.' If the UNLV Rebels have designs on going "Bowling" for only the second time in this millennium, then conference victories are of paramount importance.
And for the fans, if they expected a defensive struggle tonight, they were sadly mistaken. Heading into this evening's tilt, the San Jose State Spartans were allowing 45.2 points per game and the host Rebels weren't far behind, allowing their opponents a generous 37 points per contest.
As such, just 3:32 into the 1st Quarter, Armani Rogers found the end zone on a zone read keeper to draw first blood against San Jose State, 7-0 and in doing so, he showed the Rebels were open for business and ready to tackle conference play.
By halftime UNLV had posted a tidy 35 points thanks to 202 yards on the ground coupled with a timely passing attack. They were nursing a comfortable three touchdown lead. For lovers of offense it was purely a fourth of July fireworks show from the jump.
In the second half the pyrotechnics fizzled as the Rebels pitched a shutout, holding the visitors scoreless while posting only seven points on offense. But it was all they needed.
Perhaps the most impressive stats of the night were the ones that have plagued the Rebels in the past…
Penalties and turnovers.
UNLV had zero turnovers on the evening and they were merely penalized a very manageable six times for a total of 55 yards.
In the end the 41-13 victory reflected their total dominance as they amassed 548 yards of offense and were a gaudy 9-13 on third down conversions.
UNLV closes September with a 2-2 record overall, 1-0 in conference. Next week they'll welcome San Diego State in what promises to be a defining showdown for Tony Sanchez and company as the winner will most certainly establish an early stronghold in a quest for a Mountain West Conference Title.
The "Second Season" is underway and for the Scarlet and Gray faithful, hope is alive and well…
Aided by a very dynamic offensive attack~
Article by: Bernie Fratto | @BernieFratto
Photo by: Helen Yee | @HelenYeeSports