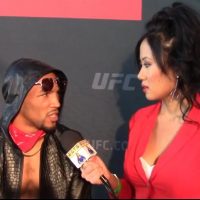 UFC lightweight Kevin Lee (16-2 MMA) will be fighting #2-ranked lightweight, Tony Ferguson (22-3 MMA), for the interim title in the main event this Saturday, October 7 at UFC 216.
Kevin Lee is sitting on a five-fight win streak and has submitted his last three opponents. After his impressive first-round victory over Michael Chiesa in June, tension arose as he and Ferguson traded verbal shots while Ferguson interviewed him on FS1.
On the other hand, Ferguson is riding a nine-fight win streak with his recent victory over former UFC lightweight champion, Rafael dos Anjos on November 5, 2016. Since then, he was scheduled to fight #1-ranked lightweight, Khabib Nurmagomedov, for the interim title at UFC 209 back on March 4, 2017. However, Nurmagomedov was hospitalized the day of weigh-ins due to his weight cut and the fight was canceled.
The UFC lightweight title is currently being held by Conor McGregor, who defeated Eddie Alvarez for the belt last November at UFC 205. Since then, McGregor went on to fight Floyd Mayweather in a boxing match in August. Though he has not defended his title yet, McGregor recently said in an interview with Caroline Pearce at SEC Armadillo that he does plan on defending his UFC title and how much it means to him.

During UFC 216 media day, Lee spoke to Helen Yee about his upcoming fight with Tony Ferguson, Conor McGregor, and more.
Video below.