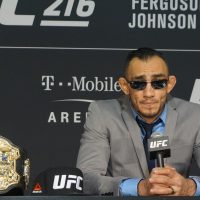 On Saturday, October 7, UFC 216 was a night to be remembered for many reasons.
It has been nearly one week since the horrific tragedy happened in Las Vegas. Throughout the night of fights, the UFC planned heartfelt tributes to the first responders and victims. UFC "Vegas Strong" t-shirts were also being sold at the venue with 100% of the profits being donated. The promotion also donated $1 million to the victims and families earlier this week. 
Many in attendance showed their support and love for the city by wearing those t-shirts. UFC president Dana White announced the day before that 1,500 first responders were expected to be in attendance, along with several victims.
Before the main card begins, UFC honors a few of the first responders & victims & performance by Everlast #UFC216 crowd chants "USA" pic.twitter.com/rOzk9yFhJ2

— Helen Yee (@HelenYeeSports) October 8, 2017
UFC doing a great job tonight with the #VegasStrong messages.❤️ @TMobileArena pic.twitter.com/5NKHRGx7M0

— Helen Yee (@HelenYeeSports) October 8, 2017
History was made in the co-main event. UFC flyweight champion, Demetrious Johnson made his way into the UFC history books in spectacular fashion, via suplex-to-armbar midair. He defeated Ray Borg in the fifth round, which marked his 11th straight title defense. He broke the previous record of ten successful defenses which was held by Anderson Silva.
The feat cemented Johnson as the greatest UFC champion of all time, and Dana White had nothing but praise for him afterwards. Johnson was also awarded with the 'performance of the night' bonus of $50,000.
Still the champ! Demetrious Johnson defeats Ray Borg for his record 11th successful title defense, surpassing Anderson Silva's mark. pic.twitter.com/faM0ghTnVb

— SportsCenter (@SportsCenter) October 8, 2017
Following that was the anticipated main event for the UFC's interim lightweight title between Tony Ferguson and Kevin Lee. Leading up to the fight, there was no shortage of tension or verbal jabs between the two. There was also no shortage of Conor McGregor discussions as many wonder who the lightweight champion will fight when he returns to MMA from his blockbuster boxing match with Floyd Mayweather.
Tony Ferguson submitted Kevin Lee in the third round with a triangle choke to become the UFC's interim lightweight champion. In his post-fight interview, he sent a strong message to McGregor. "Where you at, McNuggets? You better come and defend that belt. Defend or vacate."
WE HAVE AN INTERIM LIGHTWEIGHT CHAMP!!!@TonyFergusonXT #UFC216 pic.twitter.com/OoYrxHfSLc

— UFC (@ufc) October 8, 2017
#AndNew interim light weight champion of the world@TonyFergusonXT | B2YB @7Eleven #UFC216 pic.twitter.com/ZrkTs4JOVz

— UFC (@ufc) October 8, 2017
After the fight, Lee said, "Tony Ferguson was the better fighter tonight. I've said it before, I thought he was the toughest fight in the division. I underestimated his work from the bottom. He did a great job."
Dana White addressed whether Ferguson will fight McGregor next. "It's the fight that has to happen. Tony's the interim champion, Conor's the champion. It's the fight that makes sense."
White also put rumors to rest about a potential trilogy fight between McGregor and Nate Diaz. "Nobody's talked about Diaz. He has never been talked about."
White also said McGregor wants to return by 2018. "He wants to fight again this year. He partied in Ibiza and went back home. You've got to let him blow off some steam, then we'll figure it out."
Meanwhile, the new interim champion, Tony Ferguson, revealed his thoughts about how McGregor hasn't mentioned his name. "This is chess, man. This is check. This will be checkmate soon. Literally, he's running out of time. He needs to defend or vacate. If he doesn't vacate, he needs to defend it."
Ferguson is now riding a ten-fight win streak since October 19, 2013, and has submitted six of those ten opponents. He is also the winner of The Ultimate Fighter 13.
UFC 216 had many memorable fights and moments, but two fighters shined bright as they held their belts. Demetrious Johnson made history and Tony Ferguson became the interim lightweight champion. 
Though it was on a somber night as the city of Las Vegas, the fight capital of the world, is still fighting to recover, Dana White said it best in a video message before the main card began. "Together, we will heal. Together, we will help the victims and their families. Together, we will be stronger than ever." 
#VegasStrong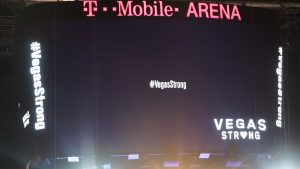 Article & photos by: Helen Yee | @HelenYeeSports