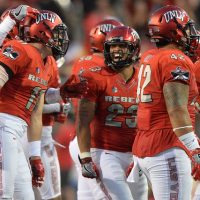 The San Diego State Aztecs must feel like Sam Boyd Stadium is their second home.
Each time they have played there in recent years, they have won convincingly. This held true again Saturday night as the Aztecs rolled up 474 total yards and overpowered UNLV 41-10.
Rashaad Penny ran for 170 of San Diego State's 302 yards on the ground in a brutal display of toughness and domination. It was Penney's sixth straight 100 yard game this season while the Aztecs remained undefeated at 6-0 (2-0 Mountain West Conference). The victory was the third straight romp over UNLV and followed up their previous trip here last December when they defeated Houston 34-10 in the Las Vegas Bowl.
UNLV had high hopes coming into this game after playing a near flawless game last week in crushing San Jose State. This week's test was against a much tougher foe and resembled the shellacking they received two weeks ago at Ohio State. The Rebels showed once again they can't compete against the upper echelon teams in the country. San Diego State is definitely one of those teams currently ranked 19th in the nation and in all likelihood will go undefeated the rest of the regular season.
UNLV quarterback Armani Rogers was the lone offense for the Rebels accounting for 228 yards (177 yards passing and 51 rushing). He was mostly inaccurate connecting on only 12 of 27passes.
The pregame ceremony featured both teams entering the field with Las Vegas Metro Police, Firefighters and first responders interlocking hands together during the national anthem. 58 white balloons were released in the air to pay tribute to the victims of last Sunday's tragedy. The crowd of 19,770 were moved with emotion.
By: TC Martin
Photo Courtesy of Las Vegas Review Journal