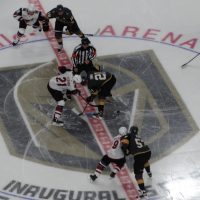 On a very emotional night the Vegas Golden Knights opened T-Mobile Arena with a resounding victory over the Arizona Coyotes. Following a tribute to the many police officers, fire fighters, EMT's , doctors, nurses and dispatchers. The Golden Knights held a 58 second moment of silence for the 58 victims of the mass shooting and Deryk Engelland gave a heartfelt speech in which he held back tears , he said he met his wife here, had his children here and this was his home so he was proud to call it that.
It didn't take the Golden Knights long to get on the board as Tomas Nosek became an unlikely part of Golden Knights history as he scored the first Golden Knights goal in T Mobile history when he scored 2 minutes and 31 seconds into the game. Deryk Engelland added a goal two minutes later and Vegas never looked back. Six minutes into the game James Neal found the net for the fourth time this season and to give Vegas a three to zero lead.
Following the goal by Neal Arizona pulled their goalie but it didn't make a difference as James Neal added his second of the night and fifth of the season to make it four to zero Vegas halfway through the first period. The Coyotes added one to take it into the first intermission four to one in favor of Vegas.
Oscar Lindberg would add his first of the year towards the end of the second period to ice it as Vegas would take a five to one lead into the locker room. Arizona would tally a second goal on the power play and that's how it would end.
An emotional Golden Knights team celebrated their third victory in three games and now must turn their attention to the Detroit Redwings who roll into town Friday night looking to end the streak of wins by the Golden Knights. In winning tonight before a capacity crowd of 18,191 Vegas became the first modern day expansion team to win their first three games.