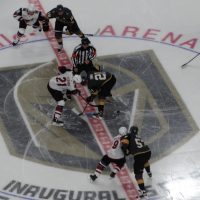 By TC Martin
Perfect is the best word to describe the Vegas Golden Knights in their efforts on the ice in the franchise's first ever regular season home game.
Perfect as in the pre-game tribute to victims and first responders to the horrific tragedy this city endured just nine days earlier. Starting with the video montage and then introducing the team hand in hand with the heroes who helped in hospitals and on the ground, moments after the deadly shootings occurred.
Perfect in the presentation of uniting everyone in the building and realizing this was more than a hockey game. It was a statement that Vegas Strong is more than a catchy slogan but a way of life in this community. The emotion pouring out from fans and everyone involved was a perfect way to usher in the city's first professional sports franchise.
And then came time to actually drop the puck. At 7:48pm, we officially had an NHL team skating in front of our eyes. At 7:50pm the crowd erupted as we had our very first goal in our building courtesy of Tomas Nosek. Two minutes later we had another, thanks to Las Vegas native, Deryk Engelland. Moments after that, James Neal scored; not once but twice in a 4 1/2 minute span. Just like that, it was 4-0 in the first period and the sellout crowd of 18,171 was in a frenzy. This is exactly what those fans who put down ticket deposits nearly two years ago were hoping for but really weren't expecting it.
The Golden Knights are now perfect in their record as well at 3-0. You couldn't have written a better script for an opening night of a new franchise. Just more than a week ago everyone in this city was hurting, shocked and emotionally drained. Tuesday night's performance helped the healing a little bit but more importantly it showed we have a first class organization in Las Vegas.