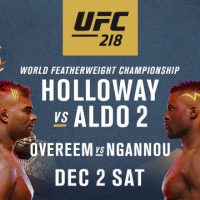 UFC 218 takes place this Saturday, December 2 at Little Caesars Arena in Detroit, Michigan.
The main event is a featherweight title rematch between the champion, Max Holloway, and Jose Aldo.
Holloway and Aldo last fought at UFC 212 on June 3 where Holloway defeated the former champion via third round TKO.
Holloway is now riding an eleven-fight win streak, with his last loss by unanimous decision from Conor McGregor in 2013. The 25-year-old champion was set to make his first title defense this weekend against former UFC lightweight champion, Frankie Edgar. However, Edgar was withdrawn from the fight, on November 8, due to injury.
Aldo, the former dominant UFC featherweight champion, was undefeated for over eight years. Prior to his third career loss by Holloway in June, Aldo defeated Frankie Edgar after suffering a loss against former UFC featherweight champion and current lightweight champion, Conor McGregor.
MAIN EVENT TALE OF THE TAPE:
Max Holloway
Record: 18-3, 8 KO
Age: 25
Height: 5ft 11in
Weight: 145 lbs
Reach: 69in
Total Bouts: 21
SIGNIFICANT STRIKES
Accuracy: 44%
Defense: 66%
GRAPPLING
Takedown Avg: .30
Takedown Accuracy: 80%
Takedown Defense: 83%
Jose Aldo
Record: 26-3, 14 KO
Age: 31
Height: 5ft 7in
Weight: 145 lbs
Reach: 70in
Total Bouts: 29
SIGNIFICANT STRIKES
Accuracy: 43%
Defense: 69%
GRAPPLING
Takedown Avg: .78
Takedown Accuracy: 72%
Takedown Defense: 92%
UFC 218 OFFICIAL FIGHT CARD, START TIME
Main Card – PPV – 7 p.m. PT
-Featherweight: Max Holloway (c) vs. Jose Aldo
-Heavyweight: Alistair Overeem vs. Francis Ngannou
-Flyweight: Sergio Pettis vs. Henry Cejudo
-Lightweight: Eddie Alvarez vs. Justin Gaethje
-Women's Strawweight: Michelle Waterson vs. Tecia Torres
Preliminary Card – Fox Sports 1 – 5 p.m. PT
-Lightweight: Paul Felder vs. Charles Oliveira
-Welterweight: Alex Oliveira vs. Yancy Medeiros
-Lightweight: Drakkar Klose vs. David Teymur
-Women's Strawweight: Cortney Casey vs. Felice Herrig
Preliminary Card – UFC Fight Pass – 3:15 p.m. PT
-Welterweight: Abdul Razak Alhassan vs. Sabah Homasi
-Light Heavyweight: Jeremy Kimball vs. Dominick Reyes
-Heavyweight: Justin Willis vs. Allen Crowder
-Women's Strawweight: Amanda Cooper vs. Angela Magana
MAIN CARD ODDS:
According to Oddsshark:
Max Holloway -300
Jose Aldo +230
Alistair Overeem +190
Francis Ngannou -240
Henry Cejudo -275
Sergio Pettis +215
Justin Gaethje -185
Eddie Alvarez +150
Tecia Torres -225
Michelle Waterson +175
by: Helen Yee | @HelenYeeSports