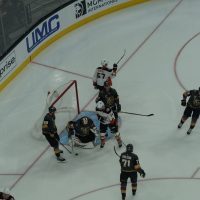 Golden Knights defeated Anaheim Ducks 4-3 in a shootout victory at T-Mobile Arena on Tuesday, December 5.
They won their overtime game on Sunday against the Coyotes. Tonight, in front of 17,608 in attendance, marked their first shootout win and second shootout game this season, with their first resulting in a loss in Toronto on November 6. They still remain undefeated at home after regulation, with that record now standing at 5-0.
In the first period, James Neal scored the first goal of the evening for the Golden Knights with 1:26 remaining. It was his thirteenth goal of the season and he was assisted by Erik Haula and Luca Sbisa. Sixteen seconds later, Oscar Lindberg scored the second goal for the home team, and his sixth of the season, with an assist by Deryk Engelland.
The Ducks began the second period strong as Brandon Montour and Ondrej Kase assisted Francois Beauchemin with their first goal 1:03 into it. It was Beauchemin's second goal of the season. Anaheim evened the score with 14:58 remaining in the second as Antoine Vermette scored the game-tying goal.
Anaheim Ducks took the lead 3-2 with 3:46 remaining in the second period as Corey Perry was successful in his shot, and sixth goal of the season, assisted by Adam Henrique.
Golden Knights scored their third goal of the night with 15:38 into the third period by Erik Haula, his ninth of the season, assisted by James Neal and Alex Tuch.
The game went into overtime but no team was able to score.
Jonathan Marchessault went first in the shootout for Golden Knights and Corey Perry for Ducks. Both were unable to score. James Neal shot second for the Golden Knights and Rickard Rackell for Ducks. They were both unsuccessful in their attempts. Alex Tuch was up next and successfully scored for the Golden Knights. Ondrej Kase was unable to follow for the Ducks and the Golden Knights were victorious.
After the game, Alex Tuch addressed the game winner. "It was pretty shocking at first. I can't believe I actually scored and the boys got me into it. So, I did a little celebration by the bench. It was really fun."
Golden Knights head coach Gerard Gallant expressed his thoughts regarding the experience for Subban and Tuch. "We scored a goal late to tie it up to get it to overtime and the overtime was really exciting. We had some great chances. Going into the shootout for a young, Subban getting that experience and stopping all three shots was big. Tuch scoring and our third shooter getting the win. It was fun and definitely exciting for fans. A big two points for us."
Goaltender Malcolm Subban said, "Obviously, it was my first shootout in the NHL. I was kind of nervous and I didn't want to let the team down. They played such a great game and I felt we deserved that win. I just tried to help my team get the win."
Vegas Golden Knights play the next two games on the road: at Nashville Predators Friday, December 8, at 5:00 p.m. and Dallas Stars on Saturday, December 9 at 5:00 p.m.
They will return back to Las Vegas to play Carolina Hurricanes on Tuesday, December 12 at 7:00 p.m.
Alex Tuch and James Neal post-game media scrum below.
Post-game press conference with Golden Knights head coach Gerard Gallant here.
Photos from the game below.
Article, photos, & video by: Helen Yee | @HelenYeeSports