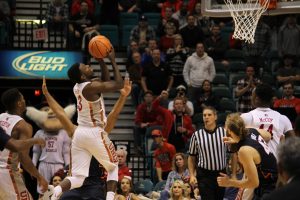 The Runnin' Rebels came out hot against the Fighting Illini, cooking up a 12-2 run in the first four minutes to take an early lead over the Big Ten school at the MGM Grand Garden Arena. During that time, Brandon McCoy had three dunks for 6 points and Jovan Mooring chalked six.
Mooring had a big night at the line, shooting 14-18 and sunk three, three's during a tight second half to essentially seal the deal for the Rebels. He shot 50-percent from the field and led the team in points with 27.
McCoy sealed yet another double-double with 10 rebounds and 22 points.
Two other Rebels put up points in the double digits, although a slower night for Shakur Juiston held him to 10. Jordan Johnson broke out of a slight scoring slump with 10 on his own and a stroke outside the arc.
The first half saw an early offensive burst from the Rebels, who stretched their lead to double-digits several times between the U16 and nine minute markers. The Illini picked up the pace at 9:08 going on an 11-point run to take their first lead of the night (31-29) at 6:06. That run was spurred by an Aaron Jordan three-point jumper. He had 10 points but shot 66-percent from outside going 2-3.
Illinois' Trent Frazier and Mark Smith recorded 16 and 17 points, respectively. Michael Finke had 12 to cap off the list of double-digit scorers.
The Rebels went without a field goal for around 8 minutes from the start of the second half. The Illini capitalized eventually taking a 50-49 lead at 14:32, highlighted by another Aaron Jordan three-point jumper. They held tight with the Rebels until under 5:30 when the Rebels went on a 14-point run to seal the win.
The big stats of the night comes from the 36 personal fouls picked up by Illinois. They sent the Rebels to the line for 48 free throw attempts. The Rebels also came into the game with the second most rebounds in the nation, but lost that stat-battle to the Illini (39-34).
Head Coach Marvin Menzies commented on the chemistry of the team and how some adversity forced his team to concentrate.
"I don't think anyone's ever happy about a team making a run, but they stayed connected," Menzies said. "They were great. It almost forced them to focus in. We've had two overtime losses, so I think those experiences kind of prepared them for that little adversity."
UNLV goes to 8-2 on the season. They play next Saturday (12/16) in Stockton, Calif. against the WCC Pacific Tigers who fell tonight against the Mountain West's 7-3 Wyoming Cowboys.