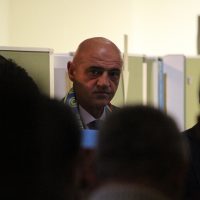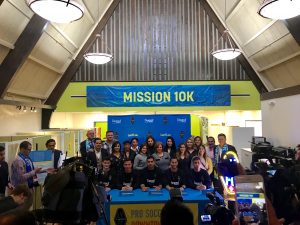 Vegas's new USL team has added five locals to its preseason roster. The team's expected to announce more names during the next few weeks, but held a presser at their headquarters on 3rd St. to highlight the group of Vegas natives.
A crowd of media and supporters filled the lobby to meet the signees who'll be battling it out for solidified roster positions when play starts next month. From youngest to oldest, they are:
Adolfo Guzman, 21, Midfielder
Guzman won a state title in Vegas with Southeast Career and Technical Academy. He was born and raised in the valley.
Matt Thomas, 22, Midfielder
According to head coach Chelís, Thomas fits into his aggressive, fast-paced, attack-based vision for Lights FC. He graduated from Palo Verde High School in Summerlin and spent time with MLS's Real Salt Lake as a teen.
Marco César Jaime Jr., 22, Defender
Jaime is a standout among the group. He was born in Vegas but moved to Mexico at a young age. There, he became a professional at 15-years old with Liga MX club Deportivo Toluca. He was named to the Mexican National Team's preliminary pool roster for the 2015 Under-20 FIFA World Cup.
Sebastian Hernandez, 24, Midfielder
Hernandez moved to town when he was six. He became an All-American after starting all four years at Bonanza High School. He took home All-American honors as a freshman and sophomore at Lassen College. He made three starts with UNLV and scored a goal in the 2013 regular season finale against Bakersfield.
Julian Portugal, 25, Midfielder
Portugal moved to Vegas from Mexico at 10-years-old. He graduated from Palo Verde as well, helping that team to State semifinals in 2011. At UNLV, he started 16-of-17 games as a freshman. In his sophomore season, he tied for the most goals on the team (5) and started 20 games.
As a senior he tied for second in the WAC for most assists (6) and started 15-of-19 games.
More roster announcements will come in the next few weeks. They'll kick off spring training with games against MLS teams in February; the Montreal Impact, a team in the Eastern MLS conference, will open up play against Lights FC on the 10th at 8pm.
Check out video interviews with Thomas and Portugal below:
Matt Thomas:
Julian Portugal: