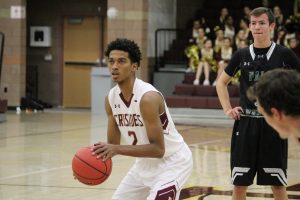 The 9-11 Panthers survived the night in Crusader's territory even with an imposing student crowd rooting against them.
Faith Lutheran still holds one of the best records in the Northwest, but picks up a loss to go to 13-3 on the season.
Palo Verde's Thomas Truman put up 17 points and Tieman Allen posted 11. Palo made 10-of-12 free throws shooting 83-percent from the line.
The Crusaders' Brevin Walter had 13 and Elijah Kothe and Jaylen Fox chalked nine a piece.
Faith shot 75-percent from the free throw line on 24 attempts.
Palo Verde faces Shadow Ridge next Wednesday at home and the Crusaders head to Legacy on Tuesday.
Check out highlights from tonight's match up below: