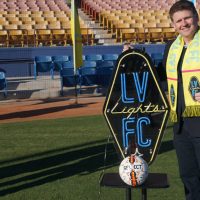 Cofield & Company welcomed LV Lights FC CEO & Owner, Brett Lashbrook, to the show on Thursday, February 8.
They discussed the team's shorts unveiling from Tuesday and jersey unveiling on Wednesday. They also spoke about how professional soccer will do in Las Vegas, the team being "outside the box", the affordable ticket prices, head coach Chelís, and more.
Highlights from the segment below.
To listen to the entire segment, click here.
LV Lights FC first game takes place at Cashman Field this Saturday at 8:00 p.m. They will be playing against Montreal Impact.
For team's full schedule, click here.