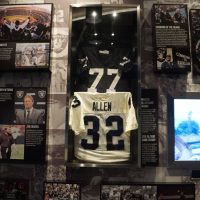 Raiders Preview Center has opened to the public at Town Square Las Vegas on Saturday, February 3.
It offers fans a peek inside the history of the franchise with team memorabilia, Super Bowl rings and trophies on display, a Hall of Fame wall, and more.
It also features a live look at the construction site of the new stadium, an in-depth layout of the stadium, and interactive monitors which display players and their stats.
It will also feature another area, which is not open to the public, for season ticket holders to get a better idea of where their seat will be at the stadium.
The stadium's targeted completion date is July 2020.
For more information regarding tickets, click here.
Store hours:
Monday-Saturday: 10AM-7:30PM
Sunday: 11AM-6PM
Admission: FREE
Gallery below.
Photos by: Helen Yee | @HelenYeeSports