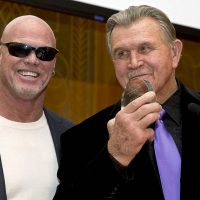 Will William "The Refrigerator" Perry score a touchdown in Super Bowl 20?
Back in 1986, it's the proposition bet that started it all. Now many Las Vegas sports books post 400-plus betting options for the Super Bowl.
With the Bears leading 37-3 late in the third quarter, the Fridge scored a rushing TD.
Some around Sin City will tell you they heard that Mike Ditka gave the Fridge his chance because he was angry at Las Vegas oddmakers for deflating his team the previous year by making the 49ers a big favorite in the 1984 NFC Championship (SF won 23-0).
Before Super Bowl 20, he seemed to throw the media off the scent by saying Fridge wouldn't get the ball against the New England Patriots.
As Ditka publicly down-played Perry's role, the odds soared to as high as 75 to 1, potentially earning bettors $750 in winnings for every ten dollars bet on Perry to score.
Once the news of the prop blew up nationally, everyone wanted to be in on the fun.
Then the national media picked up the story, relishing another colorful hook associated with a team that had created their own music video mid-season. As the publicity flowed in to Las Vegas, so did money. By kick-off the odds dropped to 2 to 1. Now a 10 dollar bet on Perry would only earn back 20 bucks.
Ditka's QB Jim McMahon joined Cofield & Co. on Friday and told the fellas what he thought happened.
"I think he made a bet. I'm not positive, but I know he likes to gamble," McMahon told ESPN Las Vegas.. "I'm sure he probably put some money down."
Did Ditka dismiss the possibility of Fridge getting a chance at a TD because he wanted the line to rise? Once it got to 75-1, did he actually make a bet?
The genesis of the bet came from the minds of longtime bookmakers Art Manteris (Caesars) and Jimmy Vaccaro (MGM).
Manteris believed a bet involving Perry would appeal to average fans. His assistant and close friend Chuck Esposito assured him Bears Coach Mike Ditka would never risk a defensive lineman fumbling in the Super Bowl, and anyway Perry hadn't rushed the ball in nearly two months. Manteris set the line at 20-1: for every dollar someone bet, they'd win $20 if Perry scored a touchdown. (Vaccaro, now the director at South Point Casino, put up the same line an hour later at MGM. "Me and Manteris, we still wrestle over that," said Vaccaro, who defers to Manteris as the progenitor "even though I'm older.")
Joined by Jose Canseco and Terrell Owens, McMahon can be seen Thursdays-Sundays in Renegades, a new Las Vegas show at Caesars. Tickets are $75 or $100 and can be purchased here.
Photo courtesy Sporting News