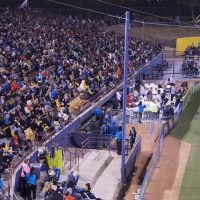 LV Lights FC hosted Montreal Impact in their inaugural preseason match at Cashman Field on Saturday, February 10.
Despite Impact defeating Lights 2-0, Las Vegas showed they're ready for soccer as a full house of 10,387 cheered loudly in the sold-out stands and field.
The tailgating before the match did not disappoint the cheerful fans as there were various food trucks, music, LV Lights colored lights wrapped around trees near the venue, flags with the team's logo and colors waving, and even two llamas outside which drew a crowd.
LV Lights CEO and owner, Brett Lashbrook, said he is working on figuring out if the llamas will be there every home game.
"Being different and being 'wow'" was how Lashbrook wanted the team's jerseys to look, as he said in a video played days prior, right before unveiling the jersey design.
From the unveiling of the shorts and players incentive program on Tuesday, to the packed Zappos Theater on Wednesday for their jersey reveal and design, to the open training, it has been an eventful and successful week for the LV Lights FC.
It concluded at Cashman Field on Saturday where it was filled with smiles from families, to friends, to soccer enthusiasts in the stands. It showed that this week has been an experience for the fans to remember, and nothing short of "wow".
LV Lights FC will play against Vancouver Whitecaps FC on Saturday, February 17 at 8:00 p.m.
I thought there were a LOT of fans at @Zappos for their jersey unveiling the other day but there's even more here at Cashman Field for @lvlightsfc first game. It's PACKED! #Vegas #LVLights pic.twitter.com/XfoLLi2CJF

— Helen Yee (@HelenYeeSports) February 11, 2018
For team's full schedule, click here.
Post-match media scrum with CEO and owner Brett Lashbrook below.
Gallery below.
Article, video, & photos by: Helen Yee | @HelenYeeSports