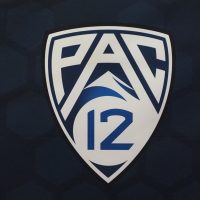 6:00 p.m. game
Arizona defeats UCLA 78-67 in overtime
Arizona Wildcats defeated UCLA Bruins 78-67 in overtime of the Pac-12 quarterfinals on Friday to move on to the championship final on Saturday, March 10.
Despite leading the game 30-26 at halftime, UCLA did not score in overtime after missing all seven of their attempts. According to Pac-12 stats, that makes the Wildcats the only team in Pac-12 Tournament history to hold their opponent scoreless in overtime. Arizona is now 3-1 this season in overtime.
The Bruins outrebounded the Wildcats 22-13 in the first half of the game. However, Arizona made necessary adjustments and then outrebound UCLA 29-11 in the last 25 minutes.
After the game, Arizona's head coach Sean Miller spoke about the adjustments his team made after halftime. " That was probably the only thing that we talked about. We had zero offensive rebounds. If you're our team, you can't do that. It's the only game this year that we had not one offensive rebound, and  UCLA had some killer second shots in the first half. It's not often that you can turn that around."
"We had ten second shots in the second half. And I believe that UCLA had two, if I'm right. Meaning their offensive rebounds. So the rebounding advantage swinging our way was that and guarding Aaron Holiday was probably the two biggest things that helped us win."
DeAndre Ayton recorded a double-double as he scored 32 points and captured 14 rebounds on 13-16 shooting. Rawle Alkins scored 15 points for the Wildcats. His 14 rebounds tied Jordan Hill, Rick Anderson, and Hassan Adams for the most rebounds in a single Pac-12 Tournament game in Arizona history.
Thomas Welsh finished with a double-double of 17 points, 17 rebounds for UCLA, which makes him two rebounds shy of David Greenwood, who's in third place for the all-time record in UCLA history. He has 1,020 career rebounds.
Coach Sean Miller spoke about his team's performance. "Tonight was certainly one of our best wins of the season, and it's because we played against a terrific team in UCLA. Offensively, unless you're going up against them, you don't realize how hard they are to defend. I don't know if there's a better guard that we've faced or there's a better guard in college basketball than Aaron Holiday, the season he's had, what he's meant to his team. I coached Thomas Welsh a couple summers ago in USA Basketball, and those two guys really willed that team into the NCAA Tournament."
For Arizona's full post-game press conference, click here.
————-
8:30 p.m. game
USC defeated Oregon 74-54
USC Trojans defeated Oregon Ducks 74-54 on Friday, March 9 in the Pac-12 quarterfinals. They will now advance to the championship final against Arizona Wildcats on Saturday at T-Mobile Arena.
USC will now be playing in their fifth Pac-12 Tournament championship and the first time since they won back in 2009 when they defeated Arizona State 66-63. DeMar DeRozan was named MVP of that game.
Oregon's loss breaks a three-year streak where they've played in the Pac-12 Tournament Championship.
In the first half of the game, Oregon shot 29 percent from the field. It marked the third consecutive game the Ducks have shot under 30 percent in the first half.
Jonah Mathews scored 27 points for the Trojans. Mathews 16 of those points in the first half. He was one point away from his career-high. In his past 15 games, he has shot 50.7% from beyond the arc; he made 7-of-9 three-pointers against Oregon.
Elijah Stewart finished with 15 points. Chimezie Metu was one rebound shy from recording a double-double as he scored 10 points and grabbed nine rebounds.
After their win, USC head coach Andy Enfield addressed his team's performance. " It was a great win for our team. Played extremely hard. Our defense once again carried us. And these two gentlemen next to me both had tremendous games offensively and defensively."
For the Trojans' full post-game press conference, click here.
—
USC will meet Arizona in the championship game on Saturday, March 10 at 7:00 p.m. Currently, USC is 0-4 vs. Arizona in the Pac-12 Tournament.
by: Helen Yee | @HelenYeeSports