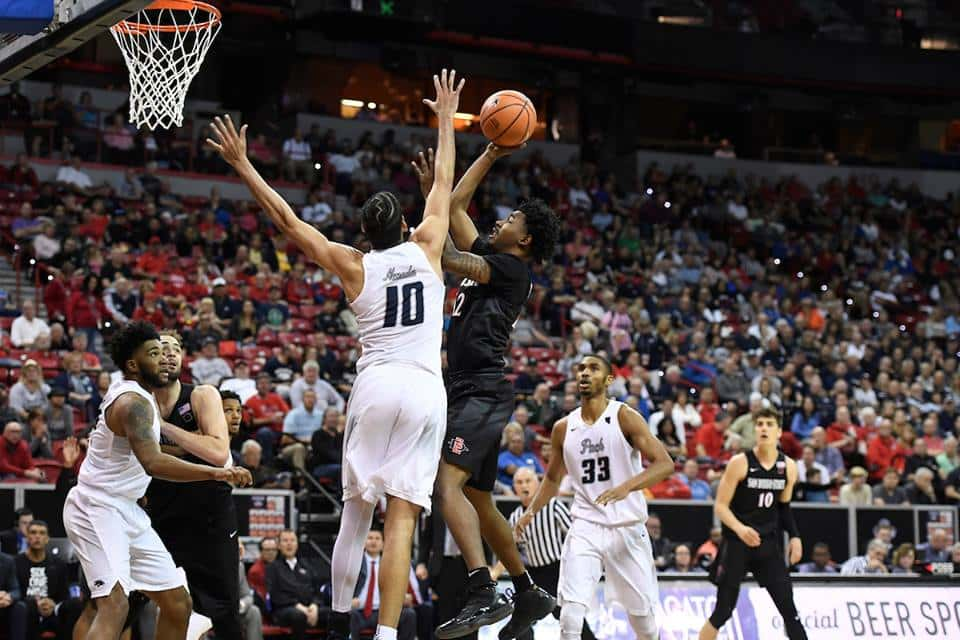 Aztecs give the #22 Wolf Pack all they can handle in 90-73 beat down
The Mountain West Conference tournament semifinals featured the No. 22, top-seeded Wolf Pack (27-7) against the five-seeded Aztecs (21-10) in the first game of the evening.
What was expected to be a close, competitive showing decided by a few points turned into a thrashing at the hands of SDSU.
Rebounding, shooting, transition dominance — multiple facets of their game staved off much resistance from the Pack who went down 90-73. Things could've been much worse though, as UNR was down by 30 at halftime (55-25).
Highlights from the win over top-seeded and No. 22/22 Nevada. pic.twitter.com/jeQnV3KsRY

— Aztec M. Basketball (@Aztec_MBB) March 10, 2018
San Diego State's defense held the Wolf Pack to one of its poorest shooting performances of the season (40 percent from the field and 24 percent from three), but while the Pack struggled, it rained all night for the Aztecs whose five starters scored in the double digits.
They were led by junior guard Devin Watson who had 20 points and five rebounds. He went four-of-seven from outside. His performance was heavily supported by freshman forward Jalen McDaniels who had a monster night and picked up a double-double. He posted 17 points and 12 rebounds and shot 75 percent from the field.
San Diego State was also potent at the free throw line, shooting a whopping 26-34.
The Wolf Pack's relied heavily on junior guard, Jordan Caroline, to even give them a shot at cutting the deficit to below 20. He scored 25 points and picked up 10 boards. In a rough night for junior forward and MW Newcomer of the Year, Caleb Martin, he picked up 13 points but shot zero-for-nine from three.
The Aztecs fell to Fresno State, 68-63, in 2016's Mountain West Conference tournament championship game after winning the conference title. They'll head into their fourth title meeting in five years to face the Lobos of New Mexico, Saturday at 3 pm.
New Mexico cruises past Utah State in 83-68 win
The start of the game between the three-seed Lobos and seven-seed Aggies (17-17) exhibited pretty balanced basketball by both teams. Utah St. even had an eight-point lead at under 10 minutes.
Then, the Lobos (19-14) began to run wild. At 6:42 Joe Furstinger tied the game up (22-22) with a couple tries from the charity stripe and the team was a defensive force of nature from that point on. They went on a 23-3 run up until the start of the second quarter and held a 20 point lead at 18:14 (45-25).
Makuach puts the ???? down! Lobos lead 37-25 at the half!@UNMLoboMBB #GoLobos pic.twitter.com/EmdXYghqKn

— New Mexico Lobos (@UNMLOBOS) March 10, 2018
The cushion held for New Mexico who had four scorers in double-digits and move on to face San Diego State in the MWC tourney's championship game.
Senior forward Furstinger shot 85 percent from field goal range and picked up 16 points and six rebounds. Junior guard Troy Simons led the team with 17 points and senior guard Sam Logwood posted 16 of his own with 7 rebounds.
Three pointer by Simons! @UNMLoboMBB leads 69-53 with 6:29 to go in the game. #GoLobos pic.twitter.com/rCq3hny1zC

— New Mexico Lobos (@UNMLOBOS) March 10, 2018
The Lobos sunk 20-of-25 from the line and shot 52 percent from the field.
Utah State shot 42 percent from the paint and hit 13-of-16 free throws. They were led by sophomore guards Sam Merrill who had 17 and five assists and Koby McEwen who picked up 16 and eight rebounds.
by Marcus Lavergne