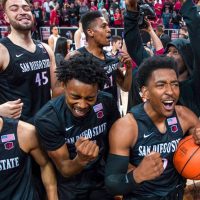 San Diego State used a late run to overcome a six-point deficit in the final minutes to take the Mountain West Tournament championship over New Mexico 82-75.
Trey Kell scored a career-high 28 points and Max Montana converted maybe the biggest play of the Aztecs season draining a three and being fouled to start the rally.
The Lobos jumped out to an early lead in the game but the Aztecs answered back and took a one point lead into the locker room. The first few minutes of the second half were highly entertaining with each team exchanging baskets and leads but at the under eight minute timeout the Lobos seemed to be in control of both the game and their fate as they looked the fresher team but Aztec coach Brian Dutcher made a calculated gamble putting both Montana and senior center Kameron Rooks on the floor together and while Rooks didn't provide many stats he created enough of a disruption in the paint for the Lobos to go cold down the stretch giving them no easy baskets.
In the final six minutes of the game Trey Kell took over the game scoring 11 of the Aztecs points in that stretch. New Mexico simply had no answer and the Aztecs did something in Dutcher's first season they have become pretty accustomed to during the last 15 years and that is going to the NCAA Tournament. It seemed the Lobos season will end at 19-14 as after the game coach Paul Weir seemed dismissive of the idea of his program paying to play in the postseason.
Photo courtesy of Idaho Stateman