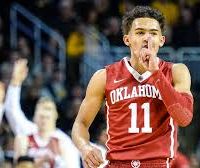 By: TC Martin
Every year at this time Selection Sunday brings us excitement and anticipation.  But for some teams, it brings bitter disappointment of not making the the NCAA Tournament. This year in particular there seems to be some serious questions on who is in and who got left out.
​Oklahoma is the biggest question mark as they lost 11 of their last 15 games while going winless on the road since December 30th.  The Sooners are in because they have the leading scorer in the country in freshmen sensation Trae Young.  Obviously this doesn't equate to wins so this is a very shady selection. Syracuse is just as questionable.  The Orange lost five of their last eight games  and finisdhed 8-10 in conference. They were non-competitive each time they faced a top 10 opponent this season.
The "Left Out" teams that were deserving were Notre Dame, Middle Tennessee and USC.  The Irish were missing their best player Bonzie Colson for 15 games due to an injury but since his return two weeks ago, Notre Dame looked like they could beat anybody.  Middle Tennessee (24-7) is shocked they were left out after riding an 11 game winning streak but got knocked out in their conference tournament.  The Blue Raiders have been the true cinderella story in recent years and this year's team is better than those that upset Michigan State in 2016 and Minnesota last year.  USC was the second best team behind Arizona in the Pac 12 and lost in the championship game to the Wildcats.  UCLA was the fourth place team in the conference and they get in while their neighbor is out.
​All of this criticism will subdue by Tuesday when the tournament gets underway.  We will turn our attention to the match-ups  and meet some of the new cinderellas in the coming weeks.  One thing is certain; this time of year has all basketball fans ready for plenty of drama, fun and agony. Isn't it great?