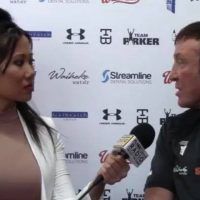 WBO heavyweight champion, Joseph Parker, will fight WBA, IBF, and IBO champion Anthony Joshua at Principality Stadium on March 31 in Cardiff, Wales.
Kevin Barry, Parker's trainer and former Olympic silver medalist, spoke to Helen Yee at his new gym in Las Vegas.
Coach Barry discussed how training camp has been for Joseph Parker, Parker's weight, Deontay Wilder vs Luis Ortiz, and more.
Video below.
Interview with WBO heavyweight champion Joseph Parker here.