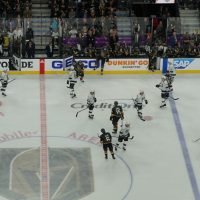 More history was made on Friday night, April 13, at T-Mobile Arena as Vegas Golden Knights defeated Los Angeles Kings 2-1 in another Vegas' first: double-overtime victory.
They now lead the series 2-0 as they play the next two games in Los Angeles.
There was also a new team record of 18,588 fans in attendance, and they remained lively throughout the entire game. The Golden Knights are now just the fifth franchise in NHL history to win each of their first two playoff games; they're the second to accomplish this feat in its inaugural season.
The victory also marked Marc-Andre Fleury's 64th career playoff win. He passed Curtis Joseph, who had 63, for 12th place on the NHL's all-time list, as reported by NHL Public Relations.
Fleury spoke about the game and victory. "It was such a relief at the end. It was long and hard. The guys did an awesome job tonight playing an awesome game. It kept coming and coming. I think Jonathan Quick made a lot of good saves for them. I had a good feeling though and to win it at home in front of our fans so late into the game."
Prior to the game, it was already announced that Los Angeles Kings star defenseman Drew Doughty would be suspended after hitting Golden Knights left wing William Carrier in the head during game one on Wednesday. It was an illegal blow to the head, according to the league's Department of Player Safety.
In the first period, Golden Knights Alex Tuch scored the first goal of the night and his first career playoff goal with 14:47 remaining on the clock. He was assisted by Jonathan Marchessault and Reilly Smith.
Afterwards, Tuch addressed the intensity of the game. "Two overtimes is a little stressful and I wish we would've done it in regulation. It's an unbelievable feeling to get the win."
In the second period, Paul Ladue scored the lone goal for the Kings with 4:05 remaining. It was his first career playoff goal and he was assisted by Dion Phaneuf and Michael Amadio.
After a scoreless third period and first overtime, Erik Haula shot the game winner for the Golden Knights victory with 4:37 left in double overtime. James Neal and Shea Theodore assisted Haula.
After the game, Golden Knights head coach Gerard Gallant spoke about his team's win in the second overtime and their speed. "I think we had some young legs, and they didn't get as much ice time as some of the other guys. Nosek made a couple great moves and he drove the penalty going through the middle, and Shea Theodore can skate all day long. So when those guys are skating, and moving their feet like that it makes a big advantage for you."
He also shared his thoughts regarding the confidence with his team. "I thought we played a hell of a game tonight, what did we have almost 60 shots? Our guys are confident, they have been confident since probably about the 10 game mark of the season. They feel good about themselves they play hard, and they know when they compete and play a fast game they can have a chance to beat anybody at any given night."
With the next two games in Los Angeles, Coach Gallant revealed what he's expecting when they play at the Kings' home. "Well they are going to come out real hard. I don't know what tonight's game is going to take out of both teams. I don't think the pace will be quite the same as it was because the guys are pretty tired and beat up from five periods of hockey tonight."
"They are going back to their building and I am sure they are going to come out hard and play real hard. They are a great hockey team, it's a great series so far."
Vegas Golden Knights play their next two games at LA Kings on Sunday, April 15 and Tuesday, April 17 at 7:30 p.m. PT.
The schedule for our first round has been confirmed ????https://t.co/XtYgoDxTee pic.twitter.com/gYYHSVQux9

— Vegas Golden Knights (@GoldenKnights) April 9, 2018
For post-game press conference with Coach Gerard Gallant, click here.
Erik Haula post-game press conference below.
James Neal, Alex Tuch, Jonathan Marchessault, Shea Theodore post-game media scrum below.
Gallery below.
Article, photos & videos by: Helen Yee | @HelenYeeSports