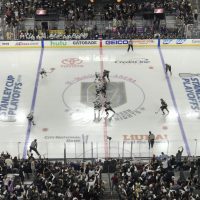 The Vegas Golden Knights defeated the Los Angeles Kings Friday night, in what was the longest game in franchise history. Erik Haula scored the the double-overtime winner, while Alex Tuch opened the scoring in the first period with his first career playoff goal helping Vegas take a 2-0 series lead.
1.) Jonathan Quick: Quick was exceptional in Game 2, as he stopped 54 of 56 shots faced in the double-overtime loss. The Kings were fortunate to be in this game, thanks in large part to Quick's heroics.
If you thought it was over, @JonathanQuick32 had other plans. #StanleyCup pic.twitter.com/n1Np9Fn3RV

— NHL (@NHL) April 14, 2018
2.) Erik Haula: Haula ended the night at 15:22 of the second overtime period, as he took a pass from James Neal, and beat Quick to his blocker side.
Your first ever #StanleyCup Playoff OT-winner in Vegas, courtesy of @EHaula. pic.twitter.com/B3Bt4acD92

— NHL (@NHL) April 14, 2018
3.) Alex Tuch: Tuch got the scoring started Friday night with a strong play down low on the power play. Jonathan Marchessault's shot sailed wide, and took a favorable bounce back toward the far post. Such held his ground, and beat Jonathan Quick to the post to score his first NHL playoff goal.
Off the boards and on the twig, all you gotta do is Tuch it in. #LAKvsVGK #StanleyCup pic.twitter.com/8IjX0wPwd4

— NHL (@NHL) April 14, 2018
Honorable Mention
Carnell Johnson: Carnell "Golden Pipes" Johnson should be the permanent Anthem Singer for the Vegas Golden Knights, and it isn't even close. Do yourself a favor, and watch this now.
A beautiful rendition of the national anthem and we're ready to play some hockey! ???????? pic.twitter.com/sQ2xmF5zz9

— NBCSN (@NBCSN) April 14, 2018
Dishonorable Mention
The Minnesota Wild: Both Vegas goals were scored by former Minnesota Wild players picked up in the expansion draft. You think Bruce Boudreau could use Tuch or Haula right now?
when you check the forecast but see snow all weekend pic.twitter.com/Jd7nSTVe4Y

— Giles Ferrell (@gilesferrell) April 13, 2018
Follow Ryan The Hockey Guy