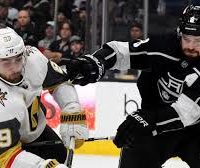 By: TC Martin
The adage that a playoff series doesn't start until the visiting team wins is usually true but the Golden Knights 3-2 victory over the Los Angeles Kings in Game 3 at the Staples Center may also signal the end is near.
​Trailing 1-0 entering the third period, Vegas erupted for three goals in the final 6:10 to take a commanding 3-0 series lead in the first round of the Western Conference Stanley Cup Playoffs. Cody Eakin started the scoring spree to tie the game 1-1.  James Neal followed with the go ahead goal 21 seconds later to put the Knights ahead.  They added another one for good measure when William Karlsson lit the lamp with 5:16 remaining in the cointest.
​The Kings seemed resolved to their fate until Anze Kopitar cut the deficit to 3-2 with a tipped goal with 2:04 to play.  The Golden Knights held off the Kings in the final two minutes to preserve the victory and take control of the series.  Marc-Andre Fleury made 37 saves in another physical and emotional game between these two teams who don't seem to like each other.  Neither team converted on a power play, going a combined 0-9.
With the victory, Vegas became the first team to win the first three games of any of the first round NHL playoff series this postseason.  The Golden Knights have the opportunity to close out the Kings and go for the sweep with a victory in Game 4 Tuesday night at the Staples Center.