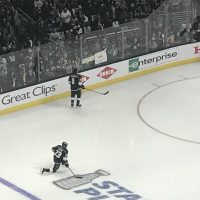 Game 3 is over, and the Golden Knights have a stranglehold on the series. The Kings came out fast, as Alex Iafallo got them on the board, 13:14 into the game. The lead would hold until the third period, when the Knights scored three times, including two goals 21 seconds apart.
1). Marc-Andre Fleury: Fleury was exceptional this series, and tonight was no exception. Fleury stopped 37 of 39 shots faced, and kept the game close through the first two periods. This is the poise a three-time Stanley Cup winning goalie can give to your team, and the experience necessary to get a team to within one win of their first franchise playoff series victory.
Fleury coming up big. pic.twitter.com/x7ibwr94IT

— Ryan Quigley (@RP_Quigs) April 16, 2018
Fleury keeps it a one-goal game. pic.twitter.com/72hmkA97DZ

— NHL GIFs (@NHLGIFs) April 16, 2018
2). Alex Iafallo: Iafallo scored his first career playoff goal, on the back of a great play by Anze Kopitar. Nate Schmidt and Brayden McNabb both keyed in on Dustin Brown, allowing Kopitar time and space to freeze Fleury, and find Iafallo with a wide open net. The Kings took their first lead of the series on the goal, and were rewarded for a strong first period.
Alex Iafallo gives the Kings the lead. pic.twitter.com/FKOPDDeg75

— Ryan Quigley (@RP_Quigs) April 16, 2018
3). James Neal: Neal scored the go-ahead goal at 14:44 of the third period, and effectively took the wind out of the sails of the Kings and their fans. Neal made Oscar Fantenberg look like an AHL defenseman, and Jonathan Quick, needing a save, allowed his softest goal of the series.
Holy five-hole, James Neal! pic.twitter.com/AsyclZhHKZ

— Ryan Quigley (@RP_Quigs) April 16, 2018
Honorable Mention
Vegas Golden Knights Offense: It took longer than normal, but when the Vegas Golden Knights skate in transition, they usually score. Over the course of the season, they have also learned how to score in sustained zone efforts. Have a look at Cody Eakin's goal, to tie the game.
????????????

1-1! pic.twitter.com/eWlafXSGZT

— Vegas Golden Knights (@GoldenKnights) April 16, 2018
Now look at William Karlsson's game winning goal. The face-off win by Jonathan Marchessault, the board battle by Reilly Smith, the one handed pass, and the finish by Karlsson. This is what Golden Knights hockey looks like.
GOAL!!!!!! William Karlsson makes it 3-1! pic.twitter.com/DCBV8vQnmu

— Ryan Quigley (@RP_Quigs) April 16, 2018
Dishonorable Mention
Drew Doughty: Back from suspension, this would be Doughty's greatest contribution to the game.
Doughty with the rare troll clap in Marchessault's face pic.twitter.com/kwNi6PuTJI

— Pete Blackburn (@PeteBlackburn) April 16, 2018
Follow Ryan The Hockey Guy