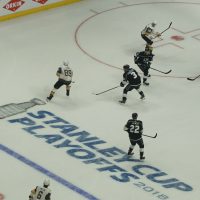 Vegas Golden Knights are one game away from moving on to round two of the Stanley Cup Playoffs as they defeated the Los Angeles Kings 3-2 at Staples Center on Sunday, April 15.
The Golden Knights are now the only team in the history of the NHL to win each of their first three playoff games in its inaugural season; they are the third franchise in the league's history.
With this being their first playoff game away from home after building a 2-0 lead heading into the two-time Stanley Cup winner's home, the Golden Knights' momentum from their first two wins carried over to the Staples Center with no signs of them slowing down.
Golden Knights fans also traveled well, dressed in jerseys and t-shirts, some even bringing flags and custom-made jackets, to show Vegas support as "Go Knights Go" chants were outside the arena before the game.
Inside, many shouted "Knight", as if they were home at T-Mobile Arena, during the National Anthem and their cheers could be heard throughout the game.
Vegas' left wing, David Perron, also made his anticipated return after being out since March 28. Drew Doughty returned for the Kings after the game two suspension.
The Kings scored their first goal of the game with 6:46 remaining in the first period by Alex Iafallo. He was assisted by Anze Kopitar and Dustin Brown.
After both teams were scoreless in the second period, the Golden Knights remained calm and came back strong in the third period.
Cody Eakin scored the first goal of the night for Vegas 6:10 into the period, with assists by Ryan Carpenter and David Perron.
James Neal then scored the Golden Knights second goal 14:22 into the third after being assisted by Nate Schmidt and Alex Tuch.
The momentum continued as twenty-two seconds later, William Karlsson helped Vegas hold a solid lead over the Kings when he was helped by Reilly Smith and Jonathan Marchessault.
The Kings tried to find an answer with 2:04 remaining in the game as Anze Kopitar scored by an assist from Oscar Fantenberg.
Despite their second goal, they were unable to come back as Vegas solidified their lead and are now 3-0 heading into Tuesday night back at Staples Center. The Golden Knights are now one game away from sweeping the series. However, the Kings are no strangers to coming back from that deficit as they did in 2014 against San Jose Sharks.
After the game, Golden Knights head coach Gerard Gallant said, "L.A. came out and they played a great game tonight. The first period they took it to us physically, and we weathered the storm."
He spoke about the team coming back from being down early in the game. "Got behind 1-0, but I thought we kept coming back and kept playing better as the game went on, and in the third period we were fortunate to get that tying goal and that was a big goal for us"
Goaltender Marc-Andre Fleury added, ""They've been great and it's been fun to watch. Tonight wasn't easy, they scored first, we had a lot of penalties. Guys battled hard until the end again. They were coming and the guys did a great job to get the puck out."
David Perron spoke about the team's win. "Again, we're down 1-0, and we're trying to find that big play to get the team going, and we found it, got the big goal. I don't know if they felt like we were just going to kind of hang on and push it to overtime, but our guys have done a good job all year to keep pushing the pace and even getting that third goal that ended up being the difference was huge for us."
Golden Knights play against Kings for Game 4 of the Playoffs on Tuesday, April 17 at 7:30 p.m.
Post-game media scrum with James Neal, Nate Schmidt, William Karlsson, and David Perron below.
Post-game press conference with Coach Gerard Gallant below.
Photos below.
Article, photos, and videos by: Helen Yee | @HelenYeeSports