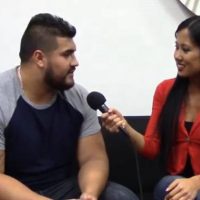 Las Vegas native and former UTEP guard, Will Hernandez, is expected to be a first-round draft pick in the 2018 NFL draft beginning this Thursday, April 26.
If he does get picked in the top-40, he will become the highest draft pick from UTEP since the Oakland Raiders selected Thomas Howard 38th overall in 2006.
Hernandez, who graduated from Chaparral High School, spoke to Helen Yee about the NFL Draft, being born and raised in Las Vegas, how he didn't start playing football until high school and didn't even know there were scholarships for it.
He also spoke about his family's support, how this city has evolved quickly as a sports town, the Raiders, and more.
Video below.
In Phoenix, Arizona, Sean O'Malley spoke to Helen Yee about grappling at Quintet Ultra, updates on his UFC return, Jose Aldo's bantamweight debut, Henry Cejudo, Colby Covington vs Kamaru Usman, Jorge Masvidal vs Nate Diaz, and possibly...

Read More
UFC middleweight Jared Cannonier defeated Jack Hermansson via second-round TKO on September 28. Cannonier is now 3-0 in the UFC middleweight division with all three middleweight victories coming by stoppage. At The MMA Lab, Cannonier spoke to...

Read More
At Xtreme Couture, MMA legend Randy Couture spoke to Helen Yee about Stipe Miocic and Daniel Cormier. Video below....

Read More