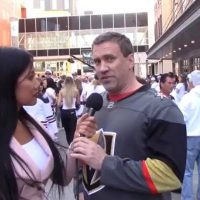 Despite there being over 21,000 Jets fans who supported them during Game 6 of Round 2, when they played against the Predators, Economic Development Winnipeg reported that 11,000 people showed up to the Winnipeg Whiteout street party for the opening games against the Golden Knights.
The festivities, which featured food trucks, concerts, and had many fans dressed up in Jets gear, to wedding dresses, to being painted blue, to R2D2 and Stormtrooper costumes from Star Wars, took place adjacent to where the games were played at Bell MTS Place.
Prior to Game 1 of the Western Conference Finals on May 12, in the midst of the crowd, was one of two Golden Knights fans. Cash, who is an original season ticket holder, and his friend, traveled to Winnipeg to watch their favorite team, the Golden Knights. He said he didn't know much hockey before this season, but the Golden Knights changed his perspective and said it's the "greatest thing to happen to Las Vegas."
They became popular amongst the crowd of Winnipeg fans as the Jets fans were asking Cash and his friend for photos, and then wishing his team good luck. He was also approached by Winnipeg police who joked with him as he was one of the only ones with the opposing team's jersey on in a sea of white shirts.
Cash spoke to Helen Yee about the Golden Knights and how the team has changed his life.
His interview and a quick look at the Winnipeg Whiteout event below.