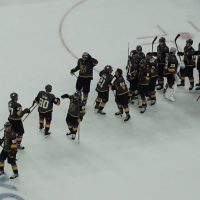 Vegas Golden Knights are one step closer, and only two wins away, from making the Stanley Cup Finals as they defeated Winnipeg Jets 4-2 on Wednesday, May 16 at T-Mobile Arena.
It was their first game back home after beginning the series away for the first two games; it was their first time in the Stanley Cup Playoffs which they did not start at home. Golden Knights now lead the series 2-1.
According to NHL Statistics, since 1974-1975, when a series is tied 1-1, the winner of Game 3 usually has a record of 35-8, equivalent to 81.4%, to win the series.
Jonathan Marchessault continued his impressive playoff performance, particularly from Game 2 on Monday, after he made the speech that Vegas needed to win that game away from home after losing Game 1 in Winnipeg.
Marchessault ended the night with two goals: his first scored 35 seconds into the game, and his final goal scored with three seconds remaining on the clock. He currently scored eight goals in the playoffs. To add to Marchessault's accomplishments, he became the first player in the history of the NHL to score a goal in the first and the last minute in the same playoff game.
Coach Gerard Gallant addressed Marchessault's first goal helping the team's momentum. "It was huge. It was a big response and we always come out in our home building. Marchessault makes a great play on the goalie. He's got quick speed and quick feet."
In the second period, with 14:32 remaining, Mark Scheifele scored the first goal for the Jets with an assist by Blake Wheeler.
Not to be outdone, James Neal then scored for the Golden Knights twelve seconds later. Neal was assisted by Erik Haula. It marked Neal's fourth goal of the playoffs.
Then, with 11:47 left in that period, Alex Tuch scored his fifth goal of the playoffs after being assisted by James Neal and Nate Schmidt.
Mark Scheifele once again scored the goal for Winnipeg, which was their final goal of the night, with 19:42 remaining in the game. It marked his 14th goal of the playoffs.
Marc-Andre Fleury continued his incredible performances as he made 33 saves and 15 stops in both the second and third period; many of his saves left fans speechless at how he managed to stop the shot.
HOLY MOLY WHAT A GOALIE ???????????? pic.twitter.com/UYHHF7GZT8

— NHL on NBC (@NHLonNBCSports) May 17, 2018
Vegas' win marks Fleury's 72nd career victory in the Stanley Cup Playoffs. Fleury also passed Jacques Plante and is ranked ninth on the NHL's all-time playoff wins list.
Marc-Andre Fleury spoke about the save he made from Mark Scheifele's shot. "It was just a pass across and I was a little surprised he shot through our guy. I just tried to reach and get a piece of it. It hit my toe and came back right in the middle in the slot. That was my view. He had a lot of time and some room to shoot at, so I tried to get as much body in front of it and get a piece. I was happy with that."
James Neal spoke about Fleury's save. "I had a great view sitting on the bench there. His legs, his toe came out so fast, for one save. Back to him again, and he comes diving across again, diving. It was fun. He's been doing it all whole playoffs, doing it is whole life. It was a great save, key moment in the game. Game saver."
After the game, head coach Gerard Gallant spoke about Fleury's performance. "He's made unbelievable saves and they were obviously important in a key time for us. That's Fleury and he's been great all the time in the playoffs and has been great all year for us. He's a guy that has fun out there. I'm sweating on the bench yelling my head off and I looked down there and he's just having fun."
He also shared his thoughts on if he ever thought his team would be two wins away from the Stanley Cup Finals. "I didn't imagine it in October and November but come around January, we had a good hockey team and when you look around the league, there are a lot of good hockey teams on any given night. A lot of teams can beat anybody and we were in that group with a bunch of good teams.
Coach Gallant continued, "I didn't know we would go this far but I knew we had a chance as well as anybody else. In October, I didn't believe that but early January around the All-Star game, I was a strong believer in this team and I knew we were going to battle well and compete well."
Vegas Golden Knights will return to T-Mobile Arena for Game 4 on Friday, May 18 at 5:00 p.m.
Post-game press conference with Golden Knights Marc-Andre Fleury and James Neal below.
Post-game press conference with Golden Knights head coach Gerard Gallant below.
Photos from the game below.
Article, photos & videos by: Helen Yee | @HelenYeeSports