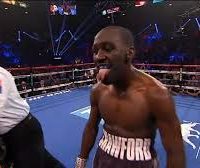 By: TC Martin
The fight was a mismatch from the moment that Bob Arum announced it.  It was a mismatch on paper, in theory and in reality it was a painful beatdown of Jeff Horn.  Terence Crawford, one of top two or three boxers in the world moved up in weight after an 11 month layoff to capture the WBO Welterweight title that was held by Horn.  Referee Robert Byrd mercifully stopped the bout at 2:32 of the 9th Round after Horn was rocked repeadilty by Crawford from the opening bell in front of a raucous crowd at the MGM Grand Garden Arena Saturday night.
Crawford's persistent attack of both the body and head left Horn with no defense and he was sent to the canvas with 50 seconds left in the ninth round.  Byrd stopped it after Crawford continued with a barrage of punches, calling a halt to the bout and awarding the undefeated champion a TKO victory.
Horn was fighting for the first time in the United States and his welcome package included getting the taste of the best fighter ever faced.  Horn earned the shot at Crawford after upsetting Manny Pacquiao last July in one of the most controversial victories in recent memory.  He then defended his 147 pound title by defeating a lesser opponent in Gary Corcoran last December.  Horn is not in the same class as Crawford and was basically a sacrificial lamb for Crawford, who will now start to challenge the top welterweights in the world for some big money paydays.
Crawford improved to 33-0, with 24 knockouts and will now look to fight any of the talented welterweights such as Keith Thurman, Errol Spence Jr, Shawn Porter or Danny Garcia.  However all of those fighters are under the Al Haymon umbrella which makes it difficult.  Arum still represents Manny Pacquiao, so if the popular Pacquiao defeats Lucas Matthysse in July, then the stage will probably be set for him to face Crawford.  At any rate, Crawford needs to stay active and showcase his talented skill set to the world, so they may see why he is arguably the best fighter in the world.
Related News
After sputtering to a 17-point performance in a loss last week to Arkansas State, UNLV's offense still lacked the punch it needed to knock off Northwestern. The Rebels failed to score after halftime and lost to the...

Read More
At MGM Grand, Otto Wallin spoke to Helen Yee about his upcoming fight against Tyson Fury. Video below....

Read More
At MGM Grand, Bob Arum spoke to Helen Yee about Tyson Fury, Deontay Wilder, Terence Crawford, and more. Video below....

Read More