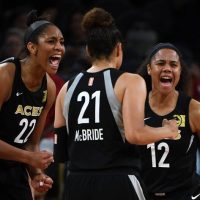 By: TC Martin
The Las Vegas Aces are playing some great basketball as of late, thanks to the play of a key veteran and a rookie who looks nothing like the part of a first year pro.  Together, they have brought the Aces from a 1-7 start to a 8-12 record and on the verge of a possible playoff berth in the team's inaugural season.  This was evident this past week as they combined for 52 and 61 points respectively in two home court victories.
 Kayla McBride is in her 5th season in the WNBA and is the veteran leader: both vocally and by her stellar play.  She is averaging 19 points per game and her gutsy and emotional fire shows every time she hits the floor.
​A'ja Wilson is the talk of the league.  She was the #1 overall pick and college basketball's reigning player of the year, and has scored double figures in all 20 games of her young professional career.  "She is my vet", says a vibrant Wilson, referring to McBride.  "She is our emotional leader and leads by example. She means everything to this team."
The two have become very close on and off the court and have formed a lethal dynamic duo. Both  can score in a variety of ways, whether it's inside or outside.  "A'ja is special" said McBride.  "She handles everything with grace and she never gets flustered.  I don't think she realizes how good she really is yet."
McBride has her own scoring streak going as she has now eclipsed double digits on 16 consecutive occasions and 17 overall this season.  When I asked Head Coach, Bill Laimbeer, "What is the best part of his team?"  He answered back with a question "You mean besides Wilson and McBride?"
The Aces are getting better with each and every game and the main reason is because of the consistent play of these two periencal all stars.  If you haven't been to a game yet, treat yourself in seeing a team coming together both on and off the court.  They represent their new city proud and are a ton of fun to watch.
​