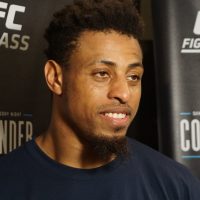 Former NFL player, Greg Hardy, won his second professional MMA fight during the finale of Dana White's Tuesday Night Contender Series on August 7.
He knocked out Tebaris Gordon in 17 seconds of the first round.
In his MMA debut on June 12, he knocked out Austen Lane in 57 seconds of the first round. That victory earned him a developmental contract with the UFC.
After his win over Gordon, Hardy spoke about his MMA career, how he handles the criticism he receives, the two NFL teams he would still want to play for, and more.
Video below.