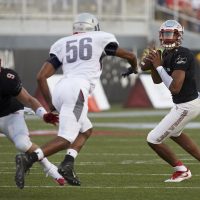 UNLV's freshman quarterback flashed potential during his first season under center. Armani Rogers' 225 combined passing and rushing yards per game ranked him 4th in the Mountain West. He was one of 10 players nationally to rush for at least 700 yards and throw for another 1,000 yards in 2017.
The highlight moment of Rogers' debut season came against New Mexico late in the year. The Rebels trailed the Lobos by 5 points with under 90 seconds to play. Rogers had to do something he had never done before: lead UNLV down the field for a game-winning touchdown.
He ended up doing just that with a beautiful three-play sequence.
On a 3rd and short, Rogers completed a familiar curl route near the sideline to move the sticks and avoid a high-pressure 4th down.
Then came the best pass of the season.
Rogers fit the ball in the tightest of windows. The corner is all over Brandon Presley. The safety is closing in ready to pounce on the slightest of overthrows.
But Rogers threw Presley open.
With the clock running, UNLV had no time to celebrate the big play.
Rogers gets single coverage on Kendal Keys and throws away from the defender to the back shoulder fade and gives the Rebels the lead.
Despite the comeback and prolific freshman season, Rogers' teammates don't see him as too cocky entering 2018.
"Armani looks good. He's an athletic guy," defensive lineman Jameer Outsey said. "He's a young guy. He's eager to learn. He's open to opinions. Sometimes guys get an accolade like Mountain West Freshman of the Year and they think they are too good and don't take criticism from anyone else. The best thing about him is he is a humble guy."
But for Rogers, the game-winning drive against New Mexico was an anomaly, not the norm. The Rebel passing game was stunted with Rogers in charge.
The main concern is the inaccuracy, a flaw that stuck out to Tony Sanchez in UNLV's first intrasquad scrimmage this fall.
"I pulled him aside during the middle (of the scrimmage) and I said, 'Are the reads wrong? No.' He's making good reads," Sanchez said. "But it's mechanics. All of sudden he's short stepping things, not following through. Balls are going into the ground."
"With him, it is not going to be a decision making deal. It is a mechanics deal."
The over the shoulder completion to Brandon Presely against New Mexico traveled 27 yards in the air. It was 1 of just 8 passes Rogers completed with over 20 air yards the entire season.
Even the touchdown pass that traveled 14 yards was a low efficiency play all season, as Rogers connected on just 51 percent of passes between 11 and 20 yards.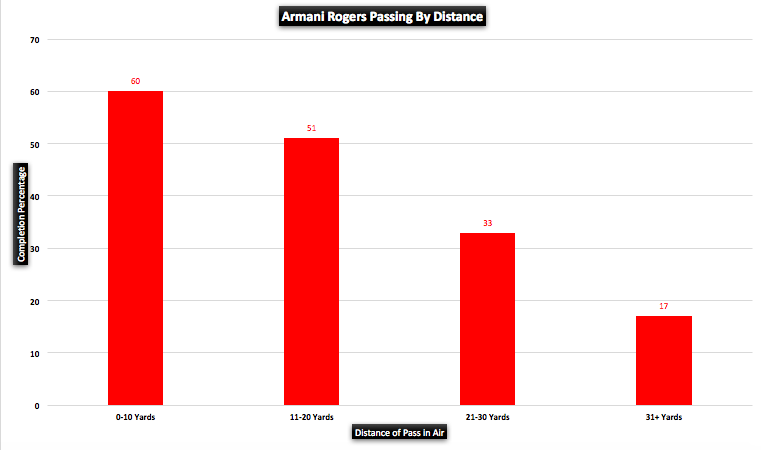 Rogers' 52.4 overall completion percentage ranked 12th in the Mountain West, while he was outside the top 100 nationally.
The national average sits at 59 percent. Rogers is barely better than that on his short throws of 10 yards or less. As a team, UNLV had more rushing plays of 10 yards or more than passing plays of 10 yards or more.
The Rebels could not stretch a defense due to Rogers' inaccuracy throwing down the field. Even when the Rebels called and completed pass plays, it didn't mean the defense had to play back. They could still crowd the box and the line of scrimmage without much fear of getting beat deep.
One of UNLV's best plays early in the season was a roll out design with a tight end drag.
This play isolates one defender who has to choose if he will cover the tight end or attack Rogers with the ball. It is a terrific play that highlights Rogers' strength as a runner and hides his deficiencies as a passer, as he has to make just one read and complete a short pass.
But by the end of the season, teams had figured out how to get two defenders covering the play.
Nevada actually screws this up by having both defenders chase after Rogers. But the pressure forced a bad throw, highlighting Rogers' inaccuracy when anything goes off script.
Growth in that area may be the best sign for a healthier passing game in 2018. Last season, UNLV typically had Rogers make one read in the passing game and if it wasn't open, he took off running. If Rogers can develop into his progression while in the pocket, the Rebels will have more chances in the passing game to exploit poor coverage.
But a key factor in Rogers' growth as a passer is the coaching. The final play offensive play of the season was a disaster.
UNLV's bowl hopes were on the line. They needed to convert the 4th and 2 after Rogers was stuffed on a draw play on 3rd and short.
Instead of giving Rogers a high percentage play, they put him in an unusual situation. He went under center, something UNLV rarely does. Of Rogers' 189 passes on the season, nine of them came after starting the play under center. UNLV is a shotgun offense, but on the season's most important play, they tried something different.
And beyond the formation, UNLV called a play with just two receivers in the route, both of which were blanketed. Then the coaching staff asked Rogers to complete a pass traveling over 10 yards in the air.
There was another odd coaching quirk when comparing Rogers to Johnny Stanton, who played three games in relief of the injured freshman. Stanton, the senior, was given more short passing plays.
When Stanton was at quarterback, he threw 63.6 percent of his passes under 10 yards; Rogers saw just 48.1 percent of his passes travel less than 10 yards. UNLV allowed Stanton to be a game manager, but asked their freshman to push the ball down the field despite his lack of accuracy.
Regardless of his utilization or accuracy, Rogers is a special player. Combine him with Lexington Thomas, Charles Williams and another solid offensive line and UNLV's offense should be humming again this season. Assuming everyone stays healthy.
In each year of the Tony Sanchez era, UNLV has lost the opening day starter at quarterback to injury. So Rogers' health is of extreme importance. Last season, he was knocked out of the Utah State game late in the second quarter due to a concussion.
When Rogers left the game, it was tied at 28; Utah State wound up winning 52-28. The Rebels averaged 31.5 points per game in 8.5 games Rogers played compared to just 22.2 points with Rogers sidelined.
Rogers is at his best when he can take off at any moment. UNLV is at its best when defenses have to worry about Rogers gashing them for 20 yards with his feet.
But developing a more consistent passing game would allow Rogers to retain his explosive playmaking abilities while limiting the hits he takes in the open field.
For a freshman quarterback the biggest improvement for year two may simply be the experience and growing pains of year one.
"I just think some of those maturation things are going to be huge for him," Sanchez said. "It is the hardest position in all of sports and there's nothing close. You need game experience. You gotta have things happen at full speed. You've gotta make those quick decisions. And I think him having that year of experience is going to be hugely beneficial."
Even with a new defensive coordinator and improved depth on the defensive line, UNLV is still going to have to win by outscoring opponents. Every year of the Sanchez era has seen the defense allow 30 or more points per game.
Rogers development as a passer can give the defense more of a cushion and propel UNLV to a bowl game.