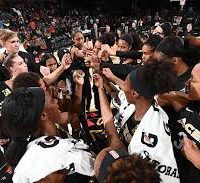 By: TC Martin
The Las Vegas Aces closed out their inaugural season Sunday with a loss on the scoreboard but a resounding win in the eyes of fans.  The crowd was on their feet cheering and saluting their newest hometown team for a season well played.
The Aces may have lost to the Atlanta Dream 93-78 but signs point to plenty of positively and a bright future for these young Aces.  The Dream are a perfect example just how quickly they may be able to turn themselves into a contender.  Atlanta was one of the worse teams in the WNBA last year finishing 12-22 and now find themselves as the #2 seed with the second best record in the league at 23-11.
​With bright young stars in A'ja Wilson, Kayla McBride, Kelsey Plum and Moriah Jefferson, the Aces have one of the youngest rosters in the league with only two players over the age of 26.  Wilson and Plum are former #1 overall draft picks while Jefferson and McBride were selected 2nd and 3rd respectively in different years.  That coupled with an ownership of MGM Resorts International and a Head Coach / President in Bill Laimbeer who already has won three WNBA titles, the groundwork is paved for future success.
Laimbeer has been in this situation twice before where he built losing teams into champions in Detroit and New York.  "We had a very successful season" said Laimbeer.  "We have young stars and the future is really bright.  I didn't know what we would have coming into this year but they came together and battled hard every night.. We will make some changes to our roster and we will get another high drat pick.  We will be much better next year," added Laimbeer.
​The fan base grew throughout the season.  Most fans in Las Vegas, like Laimbeer, didn't  know what to expect having never seen a WNBA game played here before.  With crowds averaging around 5,500 including two that eclipsed 7,000, the atmosphere was electric most nights. If a winning team is produced, it could become the summer version of the Golden Knights.
Related News
By: TC Martin Manny Pacquiao displayed once again that age isn't nothing but a number.  The 40 year old senator from the Philippines out-punched and out-classed a younger Keith Thurman earning a split decisions victory in front...

Read More
By: TC Martin Manny Pacquiao displayed once again that age isn't nothing but a number.  The 40 year old senator from the Philippines out-punched and out-classed a younger Keith Thurman earning a split decisions victory in front...

Read More
By: TC Martin Manny Pacquiao displayed once again that age isn't nothing but a number.  The 40 year old senator from the Philippines out-punched and out-classed a younger Keith Thurman earning a split decisions victory in front...

Read More